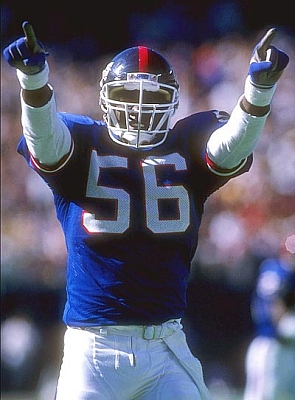 Per USA Today:
NFL Hall of Famer Lawrence Taylor has been arrested for rape in New York, according to a report from WCBS-TV in New York City.The former New York Giants linebacker was taken into custody early this morning by the Town of Ramapo police after being accused of raping someone in the Holidome Hotel in Montebello, north of New York City, WCBS said.

Ramapo Detective Lt. Brad Weidel told the AP that Taylor, 51, hadn't been formally charged. He said charges will be filed when the police investigation is completed.

The Journal Newssays the alleged victim is a 15-year-old girl who was beaten. The Journal News also says it has learned Taylor will be charged with third-degree rape, which involves intercourse with a minor.

The station said a new conference is expected later today, where police will give more details.

Taylor's troubled past includes repeated drug problems. He tested positive for cocaine in 1987 and in 1988 was suspended by the NFL for 30 days when he failed another test.

In an autobiography, Taylor admitted resuming heavy cocaine usage when he retired. He entered drug rehab twice in 1995, but later was arrested two times in three years for allegedly attempting to buy cocaine from undercover officers

In a November 2003 interview with 60 Minutes, Taylor said he spent thousands of dollars a day on narcotics at the peak of his drug abuse.

A 10-time Pro Bowler, Taylor was the NFL's MVP in 1986 and the league's Defensive Player of the Year in 1981, 1982 and 1986.