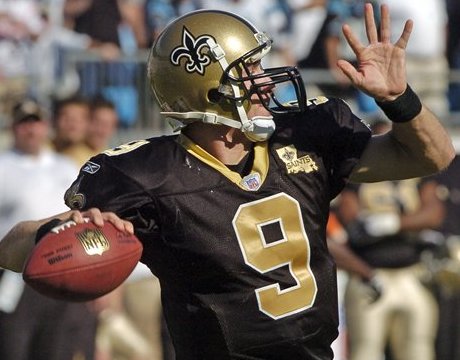 Andrew Christopher "Drew" Brees (born January 15, 1979) is the starting quarterback for the New Orleans Saints of the National Football League. He was drafted by the San Diego Chargers in the second round of the 2001 NFL Draft. He played college football at Purdue.
Brees has been selected to the Pro Bowl four times in his career – with the Chargers in 2004 and the Saints in 2006, 2008, and 2009. He was named the NFL's Comeback Player of the Year in 2004, the Offensive Player of the Year in 2008, and the MVP of Super Bowl XLIV. He was also selected by voters to appear on the cover of Electronic Arts' Madden NFL 11.High school
He went 28-0-1 in his two years as a starting quarterback at Westlake High School in Austin, Texas. He won the state championship with Westlake High School and also holds many records there. [3]
College career
Brees graduated from Purdue University with a degree in Industrial Management. He left Purdue with Big Ten Conference records in passing yards (11,792), touchdown passes (90), total offensive yards (12,693), completions (1,026), and attempts (1,678). He led the Boilermakers to the 2001 Rose Bowl, Purdue's first appearance there since 1967. In the game Purdue lost by ten points to the Washington Huskies. Brees was a finalist for the Davey O'Brien Award as the nation's best quarterback in 1999. He won the Maxwell Award as the nation's outstanding player of 2000 and won the NCAA's Today's Top VIII Award as a member of the Class of 2001. Brees was also fourth in Heisman Trophy voting in 1999 and third in 2000.
As a senior, Brees was named the Academic All-America Player of Year, the first Purdue player since Bruce Brineman (1989) to earn national academic honors. Brees also was awarded Purdue's Leonard Wilson Award for unselfishness and dedication.
Professional career
San Diego Chargers
2001 NFL Draft
Brees' college success led to projections that he would be a mid-to-late first round draft pick in the 2001 NFL Draft, but he slipped due to concerns about his relatively short stature for a professional quarterback (6'0″), a perceived lack of arm strength, and a sense that he had succeeded in college in a system designed for him. Ultimately, Brees was the second quarterback selected in the 2001 draft, chosen by the San Diego Chargers as the first pick of the second round.[4]
San Diego originally had the first pick in that draft, but traded it to Atlanta (which used it to draft Michael Vick) in return for the fifth pick of the first round, with which San Diego drafted LaDainian Tomlinson.[4]
Early career
Brees played in his first professional game on November 4, 2001 against the Kansas City Chiefs. He had won the starting job over Doug Flutie during training camp before the start of the 2002 season, but was later replaced during the 2003 season by Flutie.
Brees' career with the Chargers was put in jeopardy after San Diego acquired NC State's Philip Rivers. After the trade, it was almost certain Brees' days as the Chargers' starting QB were over. However, Rivers held out nearly all of training camp. This forced the Chargers coaching staff to give Brees one last look and he remained the starter throughout the 2004 season. Brees was selected to the 2005 NFL Pro Bowl following an impressive 2004 season in which the Chargers won the AFC West. He was named 2004 NFL Comeback Player of the Year.
2005
Brees became a free agent after the season and was not expected to return to San Diego, which had already committed a large sum of money to Rivers. The team eventually designated Brees a franchise player, giving him a one-year contract that quadrupled his pay to $8 million for 2005.
Under the terms of the franchise player contract, Brees was eligible to be traded or sign with another team, but the Chargers would have had to receive two future first round draft choices in return. He was not traded and continued to start the remainder of the 2005 season.
Brees continued his productive play in 2005, as he posted a career high in passing yards with 3,576. Brees also posted an 89.2 rating, 10th best in the NFL. However, in the last game of the 2005 season against the Denver Broncos, Brees injured his shoulder while trying to pick up his own fumble after being hit by Broncos safety John Lynch. Denver tackle Gerard Warren hit Brees while he was on the ground, causing the injury. Brees underwent arthroscopic surgery to repair the torn labrum in his right (throwing) shoulder on January 5, 2006. Subsequent reports mention additional rotator cuff damage.
Brees was selected as first alternate to the AFC Pro Bowl team for the 2005 season. He would have played in his second consecutive Pro Bowl due to the injury to starter Carson Palmer, but his own injury dictated that the AFC Pro Bowl roster would have to be filled by second alternate Jake Plummer.
After the season, the Chargers offered Brees a 5-year, $50 million contract that paid $2 million in base salary the first year and the rest heavily based on performance incentives. Brees took the incentive-based offer as a sign of no confidence by the Chargers and promptly demanded the type of money a top 5 "franchise" quarterback would receive.
New Orleans Saints
After the Chargers refused to increase their offer, Brees met with other teams. The New Orleans Saints and the Miami Dolphins were interested. New Orleans made an offer that included $10 million in guaranteed money the first year and a $12 million option the second year. Miami was unsure if Brees' shoulder was completely healed and did not offer the money Brees was seeking. The Dolphins ended negotiations and traded for Minnesota Vikings QB Daunte Culpepper instead. Brees signed a 6-year, $60 million deal with the Saints on March 14, 2006.
2006
Brees had a productive first year with the Saints, as the team, under first-year head coach Sean Payton, rebounded from its disastrous 2005 season (when the team was unable to play in New Orleans due to the damage caused by Hurricane Katrina and struggled to a 3-13 record) to finish with a 10-6 regular season record and won the NFC South division title. Brees threw a league-leading 4,418 passing yards, finished third in the league with 26 touchdown passes and 11 interceptions and a 96.2 passer rating. Brees was named starting quarterback for the NFC in the 2007 Pro Bowl. On January 5, 2007, Brees was named first runner-up behind former teammate Tomlinson for league MVP by the Associated Press. Brees and Tomlinson were co-recipients of the Walter Payton Man of the Year Award.
On January 13, 2007, in his first playoff game for New Orleans, Brees was 20-32 in passing attempts with 1 touchdown and no interceptions against the Philadelphia Eagles in the Louisiana Superdome. The Saints held on to win 27-24, and advanced to the franchise's first NFC Championship Game against the Chicago Bears. Though he completed 27 of 49 passes for 354 yards against the Chicago Bears, and two touchdowns, Brees committed three costly turnovers, and was penalized for an intentional grounding in the endzone, resulting in a safety, as the Saints lost 39-14.[5] Brees then dislocated his left elbow during the first quarter of the Pro Bowl.
2007
The following season Brees passed for 4428 yards and tied a then team record with 28 touchdowns. He also set the NFL record previously held by Rich Gannon for pass completions in a single season with 440. However, the Saints missed the playoffs.
2008
In 2008, the Saints again missed the playoffs but Brees had a strong year statistically, finishing 15 yards short of the NFL record for passing yards thrown in a single season set by Dan Marino in 1984. He finished the season with 5,069 yards and became the second quarterback in NFL history to throw for over 5,000 yards in a season.[6] He passed for 300 yards ten times during the season, tying Rich Gannon's 2002 record. He was named FedEx Air Player of the Week for his performances during weeks 8 and 12 and was named the AP 2008 Offensive Player of the Year.[7]
2009 Super Bowl Season
In the first game of the 2009 season against the Detroit Lions, Brees set a career-high and franchise-tying record with six touchdown passes, going 26/34 for 358 yards. He also set a league record for most passing touchdowns on opening weekend. The next week, Brees led the Saints to a 48-22 win over the Philadelphia Eagles, throwing for 311 yards and three touchdown passes. Brees also tied the record for most touchdown passes by the end of week 2 with 9. In week 6 against the 5-0 New York Giants, Brees completed 23 of 30 passes for 369 yards, 4 touchdown passes and a passer rating of 156.8 in a dominant 48-27 victory.
In week 7, Brees led a dramatic comeback victory on the road against the Miami Dolphins, 46-34. The Saints quickly faced a 24-3 deficit in the second quarter, trailing for the first time all season at that point, and failing to score on their first possession as they had in all of their previous contests. Brees had a poor outing, but provided two crucial rushing touchdowns, one just before the second half to narrow the deficit to 24-10, and one in the third quarter to give the Saints their first lead of the game, 37-34.
The next week, Brees threw for 308 yards on 25 of 33 passing along with two touchdowns and one interception in leading the Saints to a 35-27 victory and franchise tying best start at 7-0 against the rival Atlanta Falcons. In week 9, Brees helped guide the team to a 30-20 victory over the Carolina Panthers. This would be Drew's first victory over the Carolina Panthers in the Superdome and allowed the Saints to take their best ever start in franchise history at 8-0.
In week 12, Brees led the Saints to an 11-0 record, defeating the New England Patriots 38-17 on Monday Night Football. Drew Brees totaled 371 yards passing, posting a perfect passer rating of 158.3.
After close victories over the Washington Redskins and Falcons in successive weeks to start 13-0, Brees and the Saints lost their first game of the season to the Dallas Cowboys, 24-17, after DeMarcus Ware caused a Brees fumble in the final seconds, ending a fourth quarter rally. The Saints would then lose their last two games, with Brees sitting out the week 17 finale against Carolina. Their 13-3 record secured the #1 seed in the NFC.
Brees' individual statistics led to numerous accolades[8], including a Pro Bowl selection, the Maxwell Football Club's Bert Bell Award, and runner-up in voting for the AP MVP, Offensive Player of the Year, and All-Pro awards. He finished the season with a completion percentage of 70.62, establishing a new NFL record.[9][10]
In the divisional round of the playoffs, the Saints routed the Arizona Cardinals 45-14 to advance to the NFC Championship, where they defeated the Minnesota Vikings 31-28 in overtime. Brees completed 17 of 31 passes for 191 yards and 3 touchdowns.
The underdog Saints defeated the Indianapolis Colts 31-17 in Super Bowl XLIV on February 7, 2010. Brees tied a Super Bowl record with 32 pass completions and won the Super Bowl Most Valuable Player Award. He threw for 288 yards and 2 touchdowns. It was the first league championship in Saints franchise history.[11]
Career statistics
Year
Team
G-S
Passing
Att.-Comp.
Yards
Pct.
TD
Int.
Long
Sacks-Lost
Pass
Rating
2001
San Diego
1-0
27-15
221
.556
1
0
40
2-12
94.8
2002
San Diego
16-16
526-320
3,284
.608
17
16
52
24-180
76.9
2003
San Diego
11-11
356-205
2,108
.576
11
15
68
21-178
67.5
2004
San Diego
15-15
400-262
3,159
.655
27
7
79
18-131
104.8
2005
San Diego
16-16
500-323
3,576
.646
24
15
54
27-223
89.2
2006
New Orleans
16-16
554-356
4,418
.643
26
11
86
18-105
96.2
2007
New Orleans
16-16
652-440†
4,423
.675
28
18
58
16-109
89.4
2008
New Orleans
16-16
635-413
5,069
.650
34
17
84
13-92
96.2
2009
New Orleans
15-15
514-363
4,388
.706†
34
11
75
20-135
109.6
Totals
122-121
4,164-2,697
30,646
.648
202
110
86
159-1,165
91.9
Postseason
6-6
225-150
1648
.667
13
2
88
10-61
103.7
San Diego Chargers franchise records
New Orleans Saints franchise records
Most Pass Attempts, Game - 60 (tied with Aaron Brooks) [16]
Most Passing Yards, Season - 5069 (2008) [14] (Second in NFL history)
Most Passing Yards, Game - 510 vs. Cincinnati, 11/19/2006 [16] (Fifth in NFL history)
Most 4000 Yard Passing Seasons - 4 [14]
Most Consecutive 4000 Yard Passing Seasons - 4 (2006-09) [14]
Most Games w/300+ Yards Passing, Season - 10 (2008) [17]
Most Consecutive Games w/300+ Yards Passing - 5 (2006) [17]
Most Touchdown Passes, Season - 34 (2008 and 2009) [14]
Most Touchdown Passes, Game - 6 (9/13/2009) (tied with Billy Kilmer)
Most Touchdown Passes On Opening Day, 6 (2009)
Most Touchdown Passes, Career - 122
National Football League records
Most completions, season - 440 (2007)
Highest completion percentage, season - 70.62% (2009)
Highest completion percentage, career postseason - 66.67% (150/225)
Lowest interception percentage, career postseason - 0.89%
Most completions in a Super Bowl (tied with Tom Brady) - 32 (Super Bowl XLIV)
Personal life
Brees was born in Dallas, Texas.[18] He and his wife Brittany purchased and renovated a home in Uptown New Orleans.
Brees married his college sweetheart, Brittany Brees, in February 2003. They both met and dated while attending Purdue University.
Brees is allergic to dairy, wheat, gluten, and eggs.[19]
Brees was born with a mole on his right cheek. When Brees was 3, his parents considered having the birthmark removed, but doctors said that there was no medical reason to remove it.[20]
Brees' mother, Mina Brees, died on August 7, 2009 at age 59. The death was ruled a suicide.[21] Brees was briefly excused from training camp for a "family matter."[22] In 2006, Brees described their relationship as "nonexistent" ever since he refused to hire her as his agent when he entered the NFL.[23][24] After her death, Brees stated that this quote was three years old and that his relationship with his mother had been improving.[25]
Brees and his wife Brittany welcomed their first child, a son named Baylen Robert Brees on January 15, 2009 which was also Brees' 30th birthday.[26]
Brees became a brother of the Sigma Chi Fraternity while at Purdue.
Brees could have gone to Brown University, and said that if he had, he might be in politics right now. His host on a recruiting visit was Sean Morey, a former Pro Bowler for Arizona Cardinals.[27]
In April 2010, Brees was voted by fans as the cover athlete of EA Sports upcoming Madden NFL 11 video game.[28]
On April 23, 2010 in an interview with Live with Regis and Kelly, Brees confirmed that his wife was pregnant with the couple's second child, which is another boy. The baby is due in October 2010.
On July 6, 2010, in an interview with Good Morning America, Brees again confirmed that he and his wife are expecting another child together, and he discussed his new book, released that same day.[29] The book, entitled Coming Back Stronger: Unleashing the Hidden Power of Adversity, is co-authored by Chris Fabry and published by Tyndale House.[30] Coming Back Stronger opened at number 3 on the non-fiction bestseller list of The New York Times.[31][32]
Charity and volunteer activities
As a result of both his on-field success with the Saints and his extensive charitable activities since arriving in New Orleans, Brees has become (in the words of a 2010 Sports Illustrated profile) "an athlete as adored and appreciated as any in an American city today".[33] He has been involved in Hurricane Katrina recovery.[34] Drew and Brittany's Brees Dream Foundation announced a partnership[35][36] in 2007 with international children's charity Operation Kids, to rebuild and restore and recreate academic and athletic facilities, parks and playgrounds, after-school programs, mentoring programs for the intellectually disabled, neighborhood revitalization projects and child care facilities in New Orleans.
Brees has acquired the nickname "Breesus" among Saints fans.[37][38][39]
Brees visited the Guantanamo Bay detention camp on a USO tour in late June 2009. Following his return, Brees was quoted as stating that Guantanamo captives were being treated ten times better than convicts in U.S. prisons. [40][41][42][43]
In February 2008, Brees signed a promotional deal with Chili's Grill & Bar to promote the chain's new line of hamburgers. The promotion helped raise money for charity.[44] In June 2008, Brees participated in the Pro Sports Team Challenge, a competition for pro athletes to help raise money for charities. The charity Brees played for was Operation Kids[45].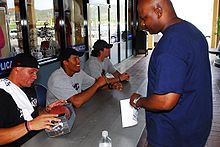 Drew Brees signs autographs at Guantanamo Bay Naval Base on June 29 2009, along with fellow NFL players Billy Miller and Donnie Edwards.
On February 18, 2007, Brees was honored by the Krewe of Bacchus, a New Orleans Mardi Gras parade club,as the 2007 Bacchus Grand Marshal. [46]
Brees again presided as Bacchus during the 2010 parade on February 14, 2010, one week after the Super Bowl during Mardi Gras season.[47]
In June 2010, President Obama appointed Brees to be co-chair of the newly renamed President's Council on Fitness, Sports, and Nutrition, along with former Olympic gymnast Dominique Dawes.