Benjamin Todd Roethlisberger (born March 2, 1982), nicknamed Big Ben, is an American football quarterback for the Pittsburgh Steelers of the National Football League. He was drafted by the Steelers 11th overall in the 2004 NFL Draft. He played college football at Miami University (Oxford, Ohio).
Roethlisberger earned the AP NFL Offensive Rookie of the Year in 2004. He became the youngest Super Bowl-winning quarterback in NFL history, helping lead the Steelers, in his second professional season, to a 21–10 victory over the Seattle Seahawks in Super Bowl XL at the age of 23. He was named to his first Pro Bowl in 2007. Roethlisberger led the Steelers to a second Super Bowl title in four seasons as they defeated the Arizona Cardinals in Super Bowl XLIII, 27–23, after he made a game-winning touchdown pass to Santonio Holmes in the final 35 seconds. Roethlisberger has been one of the most efficient passers in NFL history. He currently ranks 9th all-time in NFL passer rating (91.7), 5th in yards per attempt (8.01), and 8th in completion percentage (63.29%) among quarterbacks with a minimum of 1500 career attempts. He has the 5th highest winning percentage (.698) as a starter in the regular season among quarterbacks with a minimum of 80 starts.
Off the field, Roethlisberger has been involved in high-profile incidents, including a nearly fatal motorcycle accident in 2006 and sexual assault allegations in Lake Tahoe in 2008 and in Milledgeville, Georgia, in 2010. Neither allegation resulted in charges being filed. However, the latter act resulted in Roethlisberger being suspended for six games under the NFL's personal conduct policy for the start of the 2010-11 season.
Known for playing outside the quarterback pocket in what he calls "backyard football",[1] Roethlisberger is often compared to his childhood idol, former Denver Broncos quarterback John Elway, due to the similar styles and fourth-quarter comebacks.[2] Roethlisberger also grew up idolizing Pittsburgh area native Joe Montana. Roethlisberger wears number 7 in Elway's honor.
Roethlisberger was born in Lima, Ohio.[4] At Findlay High School in Findlay, Ohio, Roethlisberger was captain of the football, basketball, and baseball teams. In baseball he batted .300. Roethlisberger did not play quarterback until his senior year, giving way to the coach's son, Ryan Hite. Instead, Roethlisberger played wide receiver because, as coach Cliff Hite explained to the Toledo Blade, "My son throwing to Ben was a better combination." [5] Ryan Hite went on to play wide receiver in college at Division III Denison University. Hite told the Toledo Blade regarding the decision to start his son at quarterback over Roethlisberger: "I'm a nationally known knucklehead."[5]
College career
Roethslisberger played college quarterback at Division I Miami University in Oxford, Ohio. At Miami, Roethlisberger got a chance to start as a redshirt freshman and started three years of Division I college football despite his single year as a high school quarterback.[6] Roethlisberger holds every major passing record at the school and a number of passing records in the Mid-American Conference (MAC) despite playing just three years before joining the NFL.
As a redshirt freshman, Roethlisberger threw for over 3,100 yards. In 2002, he threw more than 3,200 yards, and in 2003, he threw more than 4,400 yards. In 2003, Roethlisberger led the Miami RedHawks to an unbeaten record in the MAC, a no. 10 ranking in the Associated Press poll and a 49-28 victory over Louisville in the 2003 GMAC Bowl.[6] His number was retired by the RedHawks in 91st annual homecoming on Saturday, Oct. 13, 2007, with festivities including the RedHawks football game against Bowling Green; Roethlisberger becoming only the third athlete in Miami football history to have his jersey number retired, joining John Pont and Bob Hitchens. It was the first time in 34 years Miami retired a football jersey number.[7][8]
College Football Statistics
Regular Season
Passing
Rushing
Season
Team
GP
CMP
ATT
YDS
TD
INT
YPA
CMP %
W
L
RUSH
YDS
TD
AVG
2001
Miami (OH)
12
241
381
3105
21
2
8.1
63.3%
120
189
3
1.6
2002
Miami (OH)
12
271
428
3238
22
11
7.6
63.3%
82
54
1
0.7
2003
Miami (OH)
14
342
495
4486
37
10
9.1
69.1%
67
111
3
1.7
Total
3 seasons
38
854
1304
10829
80
23
8.3
65.5%
269
354
7
1.3
The Draft
The success of the 2003 Miami Redhawks led to the expectation that Roethlisberger would be drafted early in the draft. During the GMAC Bowl, commentators discussed some of his skills that would translate to success in the NFL. At the combine, Roethlisberger scored a 25 on the Wonderlic.[9] Roethlisberger was one of the players invited to attend the draft along with others in the "Green Room" and was featured on the show "Hey Rookie Welcome to the NFL."
Professional career
Roethlisberger was selected 11th overall in the 2004 NFL Draft by the Pittsburgh Steelers. On August 4, 2004, he signed a six-year contract worth $22.26 million in salaries and bonuses, with an additional $17.73 million available via incentives. He was touted by then-Steelers coach Bill Cowher in a press conference as a franchise quarterback.[10]
On March 4, 2008, the Pittsburgh Steelers and Roethlisberger agreed to an eight-year, $102 million contract.[11] Roethlisberger had two years left on his original that he signed after the draft. He has stated that he wants to retire as a Steeler.[12]
2004 season
Roethlisberger did not immediately step in as the starting quarterback for the Steelers. He was the No. 3 QB behind Tommy Maddox and Charlie Batch. When Batch was injured in the preseason, however, Roethlisberger moved up to no. 2. Maddox started, and won, the season opener against the Raiders and started versus the Ravens. But after an ineffective outing and third-quarter injury to Maddox, Roethlisberger stepped in for his first NFL action. Despite spurring a mild comeback, the Steelers lost the game. Maddox's injury changed the Steelers' original plan for Roethlisberger, which was for him to sit on the bench or play sparingly during the first season or two in order to learn the team's system. Instead, he started the third game of the season.
As a rookie, he went 13–0 in the regular season (14–1 including playoffs) as a starting quarterback, helping the Steelers become the first AFC team to have 15 wins (2–1 under Maddox [first two and last game], 13–0 under Roethlisberger) in a single season, surpassing former Steeler Mike Kruczek for the record for the best start by a rookie (6–0) and exceeding the mark for total wins as a rookie, set by Chris Chandler and Joe Ferguson. On January 5, 2005, Roethlisberger was unanimously selected as the NFL Offensive Rookie of the Year by the Associated Press, the first quarterback in 34 years to be so honored.
One of Roethlisberger's biggest games was when he led the Steelers to a 34–20 victory over the defending Super Bowl champion and previously undefeated New England Patriots, ending their NFL-record 21-game winning streak. He completed 18 of 24 pass attempts for 196 yards, two TDs and no turnovers. The week after that game, the Steelers defeated the also previously undefeated Philadelphia Eagles 27–3. Roethlisberger was 11 of 18 for 183 yards, with two TDs and one interception.
In his first nationally-televised game on Sunday Night Football, he led the Steelers to a 17–16 victory over the Jacksonville Jaguars. He was near-perfect on the night, completing 14 of 17 passes for 226 yards and two TDs. Jeff Reed's 37-yard field goal in the final minute gave the Steelers and Roethlisberger their tenth straight win.
Two weeks later, Roethlisberger faced off against the New York Giants and the no. 1 overall pick of the 2004 draft, Eli Manning. Roethlisberger posted his first career 300-yard passing game, with 18 of 28 passes for 316 yards and a TD. He led his fifth game-winning drive of the season, capping a drive with a Jerome Bettis TD run for a 33–30 victory. Eli Manning threw an interception to seal the game for Pittsburgh.
In the divisional playoffs against the New York Jets, Roethlisberger threw two interceptions. One interception was returned for a touchdown, and the other was thrown with 2:03 left in the fourth quarter, which set up a potential game-winning field goal by Jets kicker Doug Brien. Brien missed the kick as time expired (his second missed kick in the last two minutes of the game), forcing the game into overtime. In overtime, Roethlisberger led the Steelers down the field and put them in position for the game-winning field goal, a 33-yard attempt that was made by Jeff Reed, sending the Steelers into the AFC Championship for the fourth time in 10 years.
On January 23, 2005 in the AFC Championship Game in Pittsburgh, Roethlisberger completed 14 of 24 pass attempts for 226 yards and two TDs, but he also threw three costly interceptions, one of which was returned for a touchdown by Rodney Harrison. The Steelers lost the game to the eventual Super Bowl champions, the New England Patriots, by a score of 41–27.
2005 Super Bowl season
In the 2005 regular season, the Steelers finished 11-5. After securing an AFC wild card spot en route to victory in the Super Bowl, the Steelers pulled off upsets at Indianapolis and Denver in the AFC playoffs in addition to wins over higher seeds Cincinnati and Seattle. During the course of the regular season, Roethlisberger missed four games due to various knee injuries. During the regular season, the Steelers were 9-3 with Roethlisberger at quarterback and 2-2 without him. He led the league in Yards Per Attempt with an 8.90, and finished third in passer rating behind Peyton Manning and Carson Palmer with a 98.6.[13]
The Super Bowl run began on January 8, 2006 as Roethlisberger helped lead the Steelers to a playoff win over the Cincinnati Bengals—an AFC North rival that had beaten the Steelers by seven points in the regular season to win the division championship. The rematch featured two teams with identical records, having split their regular season series since each team won on the road. Early in the game on Carson Palmer's first throw, a tackle by former Steeler Kimo von Oelhoffen resulted in Palmer's anterior cruciate ligament (ACL) being completely torn. The Bengals' backup quarterback, Jon Kitna, came in and led the Bengals to leads of 10-0 and 17-7. However, the 17-7 lead midway through the second quarter would be the last time in the 2005 postseason that the Steelers would trail an opponent by more than three points. After Kitna failed to produce, the Steelers took advantage by taking the next 24 straight points, and the win, in a 31-17 victory in Cincinnati.
Their second road win came on January 15. Roethlisberger led the Steelers against the Indianapolis Colts, the NFL's top team throughout the season and a heavy favorite to represent the AFC in Super Bowl XL. Roethlisberger threw for 197 yards and recorded a game-saving tackle on Colts' defensive back Nick Harper, who had just recovered a Jerome Bettis fumble with less than two minutes left in the game. Pittsburgh led early but had to survive a Colts comeback to win 21-18, after an errant call that the NFL later admitted was a mistake,[14] which overturned a Troy Polamalu interception that would have secured the game for the Steelers. Roethlisberger's tackle on Harper, dubbed by many as The Tackle II or The Immaculate Redemption, was compared by many to "The Immaculate Reception" in 1972, when Franco Harris made a miraculous reception and scored the game-winning touchdown against the Oakland Raiders. The victory marked the first time in playoff history that a sixth-seeded NFL playoff team defeated the top-seeded team.
On January 22, 2006, the Steelers defeated the Broncos 34-17 in Denver to win the AFC Championship and advance to Super Bowl XL. Roethlisberger completed 21 of 29 passes for 275 yards and threw two touchdown passes and scored one TD himself on a four-yard play-action bootleg. His run was the last touchdown of the game, sealing the win for the Steelers.
The Pittsburgh Steelers won Super Bowl XL 21-10 over the Seattle Seahawks in Detroit on February 5, 2006. Roethlisberger had one of the worst passing games of his career, completing just nine of 21 passes for 123 yards and two interceptions; his passer rating of 22.6 was the lowest in Super Bowl history by a winning quarterback. Though he did convert eight third-down situations in the game to help the Steelers win, none of them was bigger than his 37-yard pass to Super Bowl XL MVP Hines Ward on a third-and-28 that set up the Steelers' first TD (a one-yard quarterback sneak by Roethlisberger on third and goal). With the victory, Roethlisberger, at 23 years old, became the youngest quarterback to win the Super Bowl, a record previously held by Tom Brady of the New England Patriots.
2006 season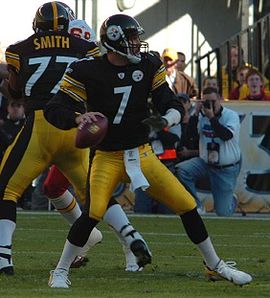 Roethlisberger drops back to pass in a game against the Kansas City Chiefs in 2006 in which the Steelers won 45-7.
After an off-season motorcycle crash in which he was seriously injured, Roethlisberger missed the opening game of the 2006 season after having an emergency appendectomy on September 3, 2006. Backup Charlie Batch started and led the Steelers to a victory over Miami. Roethlisberger played the following game against Jacksonville on Monday Night Football. His return resulted in a sub-par performance as he threw two interceptions with no touchdowns in a 9-0 loss. In week three, Roethlisberger completed fewer than half of his passes for three interceptions and no touchdowns in a 28-20 loss to the Bengals. The final interception came in the final seconds of the game, in the end zone, ending Pittsburgh's comeback attempt. In a week-five game against the San Diego Chargers on Sunday Night Football, Roethlisberger looked sharp throughout the first half, leading three scoring drives. However, in the second half, he threw two interceptions, both of which shifted momentum away from the Steelers and led to the Chargers' 23-13 win. In week six against the Kansas City Chiefs, Roethlisberger had his first big game of the season, completing 16 of 19 passes for 238 yards with two touchdowns (his first of the year) and no interceptions during a 45-7 rout of the Chiefs.
During week seven in Atlanta, Roethlisberger continued his success, going 16 of 22 for 237 yards and three TDs. But during the third quarter, Roethlisberger was helped off the field after suffering a concussion following a controversial hit by Falcons defensive end Patrick Kerney. Roethlisberger was replaced by Charlie Batch, and the Steelers went on to lose 41-38 in overtime. On October 29 against the Oakland Raiders, Roethlisberger threw four interceptions in a 20-13 upset loss. The loss was his fifth of the season—two more than he had in his first two seasons combined as a starter—and gave him a total of 11 INTs, versus just six TDs, on the season. In a week-nine rematch of the 2005 AFC championship game against Denver, Roethlisberger threw a career-high 433 yards but had three of the six Steelers turnovers in a 31-20 loss. Roethlisberger and the Steelers got back on a winning track in a home game a week later against the New Orleans Saints. He passed for 265 yards and three TDs in a 38-31 win.
In week 11, Roethlisberger overcame three first-half INTs by throwing for 224 yards and two TDs in the fourth quarter, leading the Steelers to score 21 points and come back to beat the Cleveland Browns 24-20. The following week, Roethlisberger and the Steelers were held scoreless in a 27-0 loss to the Baltimore Ravens. Roethlisberger finished 21 of 41 for 214 yards and two INTs. He was sacked nine times, including once by Ravens linebacker Bart Scott, which sent him to the sidelines briefly. He also fumbled once, which the Ravens returned for a TD in the second half.
Roethlisberger bounced back the following game, throwing for 198 yards and two TDs in a 20-3 victory over Tampa Bay. Pittsburgh kept their playoff hopes alive in week 14 with a 27-7 victory against the Browns. Roethlisberger went 11 of 21 for 225 yards with one TD, and rushed for one more. In week 15, Roethlisberger threw for 140 yards and a TD in a 37-3 rout of the Carolina Panthers. The following week, Baltimore eliminated Pittsburgh from the playoffs. In the 31-7 defeat, Roethlisberger was intercepted twice and threw for 156 yards. Roethlisberger ended the season on a good note by defeating the Cincinnati Bengals 23-17 in overtime in what would be Bill Cowher's final game as Steelers coach. He was 19 for 28 passing with 280 yards, one TD, and one INT. In overtime, Roethlisberger completed a slant pass to rookie Santonio Holmes, who went 67 yards for the game-winning TD. This win eliminated the Bengals from playoff contention.
2007 season
Due to his sub-par '06–'07 season, many questions surrounded Roethlisberger at the start of the season. In the first game of '07–'08 season, Roethlisberger reached a personal milestone: his first career four-touchdown game. The Steelers defeated the Cleveland Browns 34-7. The four touchdowns went to Hines Ward, Santonio Holmes (a 40-yard strike), Heath Miller, and rookie tight end Matt Spaeth. He followed that up with another solid performance against the Buffalo Bills. Roethlisberger was 21 of 34 passing for 242 yards and a one-yard touchdown pass to Spaeth. He continued his solid season with a decent performance against the 49ers. He was 13 of 20 passing for 160 yards and another touchdown pass to the third TE, Jerame Tuman. In week five, he had a good performance despite having two top wide receivers, Hines Ward and Santonio Holmes, out due to injury. Roethlisberger completed 18 of 22 passes for 206 yards and a touchdown pass to Heath Miller in the first quarter.
In week 9 against the Baltimore Ravens, Roethlisberger threw for a career-high five touchdowns, which tied a team record held by Terry Bradshaw and Mark Malone in a 38-7 victory over the Ravens on Monday Night Football. All five touchdowns were thrown in the first half, making Roethlisberger one of two quarterbacks in the 2007 season (the other being Tom Brady), and only the fifth quarterback since the 1970 merger, to accomplish such a feat. He also posted a perfect 158.3 passer rating in that game.
The following Sunday, Roethlisberger continued to shine when he erased a 15-point deficit against the Browns. With the Steelers trailing 21-16 in the fourth quarter and facing a third-and-10 from the Cleveland 30-yard line, Roethlisberger scrambled up the middle of the field for a 30-yard TD run (the longest run of his career at that point). He then completed a two-point conversion pass to Hines Ward. After the Browns returned the ensuing kickoff for a TD, Roethlisberger again had to drive the offense with a four-point deficit. This time he made three crucial plays on third down: an 18-yard pass to Santonio Holmes on third-and-six, a 20-yard pass to Heath Miller on a third-and-18, and a 10-yard scramble on third-and-nine. Roethlisberger capped off the drive with a short TD pass to Heath Miller, which proved to be the game winner.
In week 12, Roethlisberger set a Steelers record, completing 85.7% of his passes (18 of 21) as the Steelers beat the Miami Dolphins 3-0, a feat made all the more remarkable given the weather conditions. Pittsburgh was hit with a torrential storm, delaying the game 30 minutes due to lightning, while turning the new sod on the field, laid earlier that week, into a soggy mess. In many parts of the field, players sunk several inches with each step.
During the week 15 game versus the Jacksonville Jaguars, Roethlisberger threw his 29th TD pass of the season, to Nate Washington, breaking the team single-season TD pass record previously held by Hall of Famer Terry Bradshaw.
During week 16 in St. Louis against the Rams, Roethlisberger posted his second perfect passer rating (158.3) of the season. He was 16 of 20 for 261 yards, three touchdowns, and no interceptions. It was his third career 158.3 rating game, tying Peyton Manning for the most such regular-season games in NFL history. He also became the first quarterback in NFL history to throw two perfect games in a single regular season.
To cap his comeback season, Roethlisberger was named to his first Pro Bowl, joining five other Steelers teammates on the AFC squad. Roethlisberger's 32 touchdown passes ranked third in the NFL, behind Tony Romo and Tom Brady, while his 104.1 passer rating was second only to Brady. On five different occasions during the season, Roethlisberger led the team back from a double-digit deficit to a lead or tie in the fourth quarter. However, the Steelers would lose four of those five games as the defense in the end could not hold off Denver, New York and Jacksonville (twice), respectively. Roethlisberger also set a new Steelers single-season record with 32 touchdown passes in the 2007 season.
In a rematch of the week 15 contest, the Steelers hosted the Jaguars in the AFC Wild Card game on January 5, 2008. With the injury to Willie Parker, the Steelers could never mount a rushing attack; Roethlisberger struggled a great deal in the first half, throwing three interceptions (one being returned for a TD by Rashean Mathis) as the Steelers trailed at the half by a score of 21-7. He pulled himself together and went 17 of 23 for 263 yards and two TDs in the second half alone. The Steelers were trailing 28-10 as the fourth quarter began. When facing a fourth-and-12 at the Jaguar 37, Roethlisberger threw a quick pass against the blitz to Santonio Holmes, who broke one tackle and scored a TD to pull within 11. The Steelers scored two TDs on their next two possessions to take a 29-28 lead, but failed on both attempts at a two-point conversion. That would be costly, as David Garrard would later scramble 32 yards on a fourth-and-two to set up the winning field goal. Jacksonville finally won the game 31-29 after Roethlisberger was sacked for the sixth time that night and fumbled with a drive that started under the 0:30 mark.
Having been sacked 47 times (second most in the NFL), it was speculated that Roethlisberger's performances could have been even better given improved protection. He often showed great skill outside the pocket, as well as being among the top rushing quarterbacks. While the team did not go as far as they would have liked, it was a successful comeback season for Roethlisberger. He finished third in Comeback Player of the Year, behind the Patriots' Randy Moss and the Dallas Cowboys' Greg Ellis, who won the award. In his first Pro Bowl, Roethlisberger played three series in the second quarter, going five of nine for 42 yards and one TD, and he led the AFC team in rushing with an 18-yard scramble. The NFC won the game 42-30.
2008 Super Bowl season
Season recap
Week 1 vs. Houston Texans (W 38-17): Completed 13 of 14 passes for a career-high 92.9 completion percentage (min. 10 attempts), and finished with 137 yards passing and two TD passes. Byron Leftwich took over in the fourth quarter when Roethlisberger was on the sideline with a shoulder injury.[15]
Week 2 at Cleveland Browns (W 10-6): Leading the Steelers to their 10th straight win over the Browns on a windy, rainy night in Cleveland, Roethlisberger completed 13 of 20 passes for 179 yards and a TD pass to Hines Ward. He also had the first pass reception of his career, a negative-seven yard completion to himself after a deflected pass in the 2nd quarter.[16]
Week 3 at Philadelphia Eagles (L 15-6): Behind a relentless pass rush by Philadelphia, Roethlisberger was sacked eight times, fumbled twice, threw one interception, and was called for a safety in the fourth quarter. He did not finish the game, as his throwing hand was injured.[17]
Week 4 vs. Baltimore Ravens (W 23-20 OT): On Monday Night Football against a division rival, the Steelers trailed 13-3 at halftime. Roethlisberger threw a TD pass to Santonio Holmes in the third quarter to start a comeback. He completed two passes Mewelde Moore for 31 yards in overtime, setting up Jeff Reed for the winning 46-yard field goal.[18]
Week 5 at Jacksonville Jaguars (W 26-21): On Sunday Night Football, completed 26 of 41 passes for 309 yards and three TDs. His 239 yards passing in the first half was a career high. After falling behind 21-20 in the fourth quarter, Roethlisberger directed the game-winning drive, passing for an eight-yard TD to Hines Ward to put the Steelers ahead.[19] Named AFC Offensive Player of the Week for his performance.[20] The performance also led him to be selected as the FedEx Air Player of the Week.
Week 7 at Cincinnati Bengals (W 38-10): Off the bye, Roethlisberger passed for 216 yards and two touchdowns. It was the Steelers' eighth straight win in Cincinnati, and Roethlisberger was the quarterback for six of those games (it was his overall 11th win in 11 games in the state of Ohio).[21].
Week 8 vs. New York Giants (L 21-14): Against the defending champions, Roethlisberger was sacked five times and threw one touchdown and four interceptions, ending the game with a Steelers loss.[22]
Week 9 at Washington Redskins (W 23-6): On Monday Night Football, Roethlisberger had one of the worst performances of his career, posting career lows in passer rating (15.1), completions (5), passing yards (50), yards per attempt (2.94) and completion percentage (29.4%). Overall, he was five of 17 for 50 yards, an interception, three sacks. Before halftime, Roethlisberger re-injured his throwing shoulder in the game when he rushed for a one-yard TD that put the Steelers up 10-6. He never returned in the second half. Byron Leftwich and the defense took the Steelers to a 23-6 victory.[23]
Week 10 vs. Indianapolis Colts (L 24-20): Despite missing practice until Friday with the sore shoulder, Roethlisberger started. The Steelers led 17-7 in the second quarter before a costly interception late in the half, which the Colts used to score a touchdown. The game was tied at 17 in the fourth quarter when Roethlisberger led a field-goal drive. But on the next drive he was intercepted, which set up Peyton Manning for the game-winning TD pass. Roethlisberger was intercepted a third time on a Hail Mary attempt in the end zone on the game's final play. Overall, Roethlisberger completed 29 passes for 280 yards, no TDs, and three INTs. After the game, Roethlisberger was quoted as saying, "You'll never hear me say 'I' anything, but I lost this game."[24]
Week 11 vs. San Diego Chargers (W 11-10): Roethlisberger completed 31 of 41 passes for 308 yards and no interceptions. He led his third game-winning drive of the season (16th of his career) as Jeff Reed's 32-yard field goal connected with 0:11 left. It was the first 11-10 game in NFL history.[25]
Week 12 vs. Cincinnati Bengals (W 27-10): Four days later, on Thursday Night Football, Roethlisberger threw for 243 yards and one TD and rushed for his second TD of the season.[26]
Week 13 at New England Patriots (W 33-10): In consistent rain, Roethlisberger completed 17 of 33 passes for 179 yards, two TDs, and one INT. After falling behind 10-3 in the second quarter, Roethlisberger and the fierce Steelers' defense led the Steelers to 30 unanswered points in a 33-10 victory.[27]
Week 14 vs. Dallas Cowboys (W 20-13): Steelers trailed 13-3 in the fourth quarter before tying the game on Roethlisberger's six-yard TD pass to Heath Miller. The Steelers won 20-13 after Deshea Townsend intercepted a Tony Romo pass for a TD. Roethlisberger passed for 204 yards and one TD, and he lost a fumble.[28] It was Roethlisberger's 49th victory as a starting QB, breaking the record for the most ever by a QB in their first five NFL seasons.[29]
Week 15 at Baltimore Ravens (W 13-9): Steelers trailed 9-3 in the 4th quarter. After a FG to make it 9-6, the Steelers took over with 3:38 remaining. Roethlisberger led a 92-yard, game-winning TD drive, culminating in a four-yard TD pass to Santonio Holmes for the 13-9 victory. The TD was confirmed by instant replay from a booth review. It was Roethlisberger's 50th victory as a starter and fifth game-winning/tying drive in the fourth quarter/OT of the season, and it clinched the second straight AFC North title for the Steelers. Roethlisberger threw for 246 yards and rushed for 21 more in the game. He completed seven passes for 89 yards on the winning drive.[30]
Week 16 at Tennessee Titans (L 31-14): After falling behind 10-0, Roethlisberger threw two TD passes to take a 14-10 lead in the third quarter. Later, an interception ended a streak of 131 passes without an interception, the longest of his career. After 14 unanswered by the Titans, Roethlisberger threw a second interception, which was returned for an 83-yard TD in the final minute. The Steelers' loss clinched the no. 2 seed. Roethlisberger completed 25 of 39 passes for 329 yards, two TDs, two INTs, and four fumbles (lost two).[31]
Week 17 vs. Cleveland Browns (W 31-0): Roethlisberger suffered simultaneous hard hits from Willie McGinest and D'Qwell Jackson just after the two-minute warning in the first half. He laid on the field for roughly 15 minutes before being carted off on a stretcher and taken to UPMC Presbyterian Hospital. He was diagnosed with a mild concussion, but practiced during the week leading up to the playoff opener.[32]
AFC Divisional Playoffs vs. San Diego Chargers (W 35-24): Roethlisberger shook off past demons of returning from injury to lead the Steelers to a 35-24 victory against the Chargers. After a late TD drive to close the first half with a 14-10 lead, Roethlisberger converted three third-and-long passes on a 7:56 TD drive to start the second half, putting the Steelers up by double-digits for the rest of the game. He completed 17 of 26 passes for 181 yards and a TD while being sacked just once, with no turnovers. After the game, it was revealed that his injury suffered against Cleveland in week 17 was a spinal-cord concussion.[33]
AFC Championship vs. Baltimore Ravens (W 23-14): Roethlisberger threw for 255 yards, one TD no turnovers to help the Steelers beat Baltimore for the third time in the '08–'09 season and return to the Super Bowl. It was Roethlisberger's seventh playoff win in his first five seasons, moving him past Troy Aikman for second most all-time (first is Tom Brady with nine).[34]
Super Bowl vs. Arizona Cardinals (W 27-23): Wanting to atone for his performance in Super Bowl XL, Roethlisberger led the Steelers to one of the more dramatic victories in Super Bowl history. On the first two offensive drives, Roethlisberger passed for 122 yards on seven of eight passing attempts, which is one yard shy of his total amount from his first Super Bowl start. The Steelers led 10-0 and went into halftime up 17-7. The lead grew to 20-7 before Arizona mounted a comeback. Trailing for the first time in the game, 23-20, with 2:30 remaining in the game, Roethlisberger took the field to start the winning drive. After a holding penalty on the first play, Roethlisberger marched the Steelers 88 yards in eight plays, hooking up with game MVP Santonio Holmes four times for 73 yards on the drive, including the six-yard TD pass that put the Steelers ahead with 0:35 remaining.[35] Overall, Roethlisberger finished 21 of 30 for 256 yards, one TD, and one INT. He had a passer rating of 93.2.[36]
2009 season
Season recap
Week 1 vs. Tennessee Titans (W 13-10 OT): Completed 33 of 43 passes for 363 yards, 1 TD and 2 INTs in the 16th fourth quarter comeback of his career on the opening night of the 2009 season.
Week 2 at Chicago Bears (L 17-14): With the game tied at 14, Roethlisberger drove the Steelers into field goal range. However, Jeff Reed missed his second attempt of the quarter and Chicago would win on a field goal in the final seconds.
Week 3 at Cincinnati Bengals (L 23-20): The Steelers were dominant in the first half and led 20-9 in the fourth quarter, but the defense surrendered the lead with fourteen seconds left. Roethlisberger got the ball back with two seconds remaining and his hail mary was incomplete. It is his first NFL loss in the state of Ohio, snapping an 11-0 record.[37]
Week 4 vs. San Diego Chargers (W 38-28): Roethlisberger led the Steelers to touchdowns on four of their first five possessions to take a 28-0 lead in the second half. The Steelers hung on for victory, as Roethlisberger recorded his second 300 yard passing game of the season with 333 yards, 2 TDs and no turnovers.[38]
Week 5 vs. Detroit Lions (W 28-20): Roethlisberger completed over 70% of his passes for the third straight game and threw a season-high 3 TD passes in leading the Steelers to their first road victory of the season.[39]
Week 6 vs. Cleveland Browns (W 27-14): Improved his record to 10-0 against the Browns by throwing for 417 yards and 2 TDs.[40]
Week 7 vs. Minnesota Vikings (W 27-17): Against the 6-0 Vikings, Roethlisberger completed 14 of 26 passes for 175 yards and threw a 40 yard TD pass to Mike Wallace before halftime. It was the fourth straight victory for Pittsburgh, as they headed into their bye week.[41]
Week 9 at Denver Broncos (W 28-10): On Monday Night Football, Roethlisberger used the no-huddle offense to lead a dominant second half, as he threw for 233 yards and 3 TD passes to get his first regular season win over Denver.[42]
Week 10 vs. Cincinnati Bengals (L 18-12): After completing 70.6% of his passes through the first eight games of the season, Roethlisberger was 20/40 (50%) against Cincinnati for a season-low 174 yards. He was sacked 4 times and failed to throw a TD pass for the first time in 2009.[43]
Week 11 at Kansas City Chiefs (L 27-24 OT): Roethlisberger had thrown for 398 yards and three touchdowns before leaving the game in overtime after taking a knee to the helmet on a scramble attempt.[44] He suffered the fourth concussion of his NFL career.[45]
Week 13 vs. Oakland Raiders (L 27-24): After sitting out the overtime loss in week 12 at Baltimore, Roethlisberger started against the Raiders and passed for 278 yards and 2 TD passes. He threw a go ahead TD pass to Hines Ward with 1:56 remaining, only to have the Raiders answer back with a winning TD with nine seconds left. It was the fifth time the Steelers couldn't hold a lead in the fourth quarter. They led 10-6, 17-13 and 24-20.[46]
Week 14 at Cleveland Browns (L 13-6): On a frigid Thursday night in Cleveland, Roethlisberger was sacked 8 times and did not lead a touchdown drive in his first career loss to Cleveland, ending a perfect 10-0 record against the rival Browns. It is the first time he lost four straight starts.[47]
Week 15 vs. Green Bay Packers (W 37-36): Roethlisberger broke several franchise passing records in ending the five game losing streak for the Steelers with the biggest passing day in franchise history. His first pass of the day was a 60 yard TD to Mike Wallace, and his last pass was a game-winning 19 yard TD to Wallace on the final play of the game. He passed for 503 yards, 3 TDs, and had no turnovers. He broke Terry Bradshaw's single-season record of 3,724 passing yards, and set a new mark for single-season completions (302). After leading a FG drive to take a 30-28 lead, the defense again surrendered the lead and the Steelers trailed 36-30. Roethlisberger used all 2:01 he had left to drive the team 86 yards for the winning TD with no time remaining.[48] Roethlisberger was named AFC Player of the Week for his effort; the 5th time he has won that award in his career.[49]
Week 16 vs. Baltimore Ravens (W 23-20): Roethlisberger's 259 yard effort helped him become the first QB in franchise history to pass for over 4000 yards in a single season. With the game tied at 20 in the final quarter, he led the Steelers on the game-winning FG drive as they improved to 8-7.[50]
Week 17 vs. Miami Dolphins (W 30-24): Roethlisberger ended the season with a win in Miami as he threw for 220 yards and 3 TD passes to finish the season with 4,328 yards and 26 TD passes. He was 9-6 as a starter and his 100.5 passer rating was the second time in his career he had a season with a rating over 100. He was sacked 50 times in 2009. Despite the three game win streak to end the season, the Steelers did not make the playoffs after tie-breakers eliminated them. Roethlisberger was voted as team MVP by the Steelers for the first time in his career.[51] He was selected as the first alternate to the Pro Bowl, but declined the invitation to rest his right shoulder which was injured in the Miami game.[52]
Charitable Works
Ben Roethlisberger Foundation Roethlisberger started a foundation with the following mission statement: "The Ben Roethlisberger Foundation seeks to (a): provide support for police and fire departments throughout the U.S. with a particular emphasis on service dogs and (b): to enhance the quality of life for residents of Findlay, Ohio and Pittsburgh, Pennsylvania." http://www.bigben7.com/Foundation.aspx
In 2005, Roethlisberger donated one game check to aid the tsunami relief fund.[76] He has also donated over $100,000 to fund police dogs in Pittsburgh.[77]
Off-field headlines
Motorcycle accident
On Monday, June 12, 2006, at 11:17 a.m. EDT (UTC-4), Roethlisberger was involved in a motorcycle accident near the intersection of 10th Street and Second Avenue near downtown Pittsburgh, in which he was not wearing his helmet. Roethlisberger did not have a valid Pennsylvania motorcycle license at the time of the accident, only a temporary permit that he had obtained after moving to Pittsburgh which had expired in March.[78]
Roethlisberger was traveling east on Second Avenue when a Chrysler New Yorker made a left turn in front of the motorcycle and onto the South Tenth Street Bridge[79] when the accident occurred. According to an eyewitness, Roethlisberger went over the handlebars of his bike, a 2005 Suzuki Hayabusa,[80] shattering the windshield of the car with his head. The eyewitness reports claimed Roethlisberger tried to get up but was bleeding from the head.[81] Reports from the scene and news media indicated that the accident was serious but "not life- or career-threatening," though Roethlisberger would later relate in interviews that paramedics on the scene stopped the bleeding in his throat just in time to save his life.[82] After the accident, the shift commander for the Allegheny County emergency service described Roethlisberger as "alert and conscious."[82] He was transported to Mercy Hospital and was described as being in "serious but stable" condition in the operating room.
Police sources have indicated that Roethlisberger suffered fractures to the jaw and right sinus cavity, as well as a nine-inch laceration to the back of the head, the loss of two teeth, and several chipped teeth. His facial injuries were severe enough that witnesses on the scene did not immediately recognize him, even after he identified himself as "Ben."[83]
Upon arriving at Mercy Hospital, he went immediately into surgery, where he remained for more than seven hours. The broken bones in his face were repaired. The subsequent news conference with the Mercy Hospital staff was brief but confirmed early reports that the most serious injuries were to the head and face. There was no neck, spinal, or brain damage found. After surgery, at approximately noon on June 13, 2006, Roethlisberger was upgraded to fair condition.[82][84]
The most serious injuries to Roethlisberger were a broken upper and lower jaw and a broken nose. Roethlisberger was expected to make a full recovery in time for the opening game of the season.
In the wake of Kellen Winslow II's crashing of his motorcycle in May 2005, Roethlisberger had been criticized by various NFL members and the media for not wearing a helmet while riding. Even Roethlisberger's coach, Bill Cowher, lectured him about motorcycle safety. Former Steeler Terry Bradshaw warned Roethlisberger personally when he visited the Steelers' training camp at Saint Vincent College in Latrobe, Pennsylvania, and on television, saying, "Ride it when you retire."[82] In a segment put together by ESPN following Winslow's accident, Roethlisberger had said he didn't wear a helmet because it was not required by law, adding, "You're just more free when you're out there and there's no helmet on." Transcripts of the interview recall Roethlisberger telling Suzy Kolber that he only rides a Harley, or his chopper with friends, not a sport bike (like the one Winslow was on). He also claimed to have his license. Both statements have been proven false since the accident.
Roethlisberger was released from the hospital at 11:46 PM on June 14, 2006. The next day, he released a statement apologizing for concerning friends, family, all his fans, and the Steelers organization, and in which he also stated, "If I ever ride again, it certainly will be with a helmet."[85]
On June 19, the Pittsburgh police announced that Roethlisberger would be cited for failure to wear a helmet and failure to operate in his license class. Wearing a helmet is optional in Pennsylvania only for operators who currently possess and have had a motorcycle license for at least two years. The driver of the car was cited for failure to yield the right of way.[86]
Roethlisberger gave his first television interview after the accident on July 13, with ABC's Good Morning America. He said he was told by responding paramedics that he ruptured a major blood vessel in his mouth and was minutes away from dying. Despite the seriousness of the accident, his recovery went so well that he started the first three Steelers 2006 preseason games.[87]
Sexual assault allegations
Lake Tahoe
On July 17, 2009, a civil suit was filed in Washoe County, Nevada District Court accusing Roethlisberger of sexually assaulting Andrea McNulty, 31, in June 2008 in his hotel room while he was in Lake Tahoe for a celebrity golf tournament.[88] Roethlisberger is one of nine defendants listed in the docket report. McNulty did not file a criminal complaint and no physical evidence was collected. Roethlisberger's attorney denied the claim.[89] The suit seeks at least $440,000 in damages from the quarterback and also alleges hotel officials for Harrah's Lake Tahoe went to great lengths to cover up the incident. The woman is seeking $50,000 in damages from the Harrah's officials. According to the woman, she was working as an executive casino host in July 2008, when she said Roethlisberger struck up a friendly conversation at her desk during the golf tournament, the next night she said Roethlisberger telephoned her to tell her that the television sound system in his room wasn't working and asked her to look at it. The woman said she determined that the TV was functioning properly, but as she turned to leave he stood in front of the door and blocked her, then grabbed her and started to kiss her.[90] According to the lawsuit, the woman required hospitalization for treatment for depression after the alleged attack.
In an affidavit obtained by the Pittsburgh Post-Gazette, on August 8, 2009 states that the alleged victim Andrea McNulty allegedly bragged to a co-worker, Angela Antonetti, about having consensual sex with Roethlisberger.[91] In a sworn statement, the woman said McNulty did not appear to be upset about the incident. Antonetti went on to say McNulty expressed the possibility of being pregnant and she was hoping for "a little Roethlisberger." Moreover, Antonetti said, the woman asked her to travel to Pittsburgh, Pennsylvania in August 2008 for a Steelers' game and to try to "run into" Roethlisberger. Antonetti told her that she shouldn't try to chase Roethlisberger. Antonetti said she was "absolutely shocked" on July 21 when she heard on the radio that the woman had claimed Roethlisberger had assaulted her "because I knew [her] allegation ….was false. Because I knew that [her] lawsuit and false allegations would unfairly and unjustly hurt Roethlisberger, I wanted to set the story straight," she said in the affidavit, part of a motion filed by two other defendants to move the case from Washoe County to Douglas County. In an e-mail response to a request for comment, Roethlisberger's lawyer, William David Cornwall said: "We will let our filing speak for itself. Unfortunately, as all of our communications with Ben are confidential, it is not appropriate discuss them in any manner."
Milledgeville, Georgia
On March 5, 2010, it was revealed that police in Milledgeville, Georgia were investigating Roethlisberger for an unrelated sexual assault inside the women's restroom of the Capitol City nightclub. The accuser, a then-20-year-old student at nearby Georgia College & State University, was seen at several establishments with Roethlisberger leading up to the incident, including posing for a photograph with him.[92] Roethlisberger spoke with police the night of the incident and stated that he did have contact with the woman that was not "consummated" and afterward the accuser slipped and injured her head.
Roethlisberger hired lawyer Ed Garland, who had previously defended Baltimore Ravens linebacker Ray Lewis in his murder trial. Head coach Mike Tomlin stated at the time that he was "highly concerned" for the franchise and Roethlisberger.[93]
The accuser was treated at Oconee Regional Medical Center. An emergency-room doctor and two nurses examined her and noted in their report a "superficial laceration and bruising and slight bleeding in the genital area", but could not say if trauma or sexual assault was the cause. The remaining examination was "normal".[94] A rape kit was collected, but no semen was recovered, and the amount of male DNA found was insufficient to create a profile or establish that an assault had taken place. The doctor's report also quoted the alleged victim telling them that, "A boy kind of raped me."[94]
In interviews with the police on the night of the incident, the victim alleged that Roethlisberger, after inviting the victim and her friends to the V.I.P. area of the nightclub, encouraged them to do numerous shots of alcohol before one of his bodyguards—an off-duty Coraopolis, Pennsylvania/"Pittsburgh International Airport interdiction" officer [3]—led her down a hallway to a stool and left. Roethlisberger approached and allegedly exposed himself and, despite the victim's protests, followed her into what turned out to be a bathroom when she tried to leave through the first door she saw. The victim claims Roethlisberger then had sex with her. Friends of the victim attempted to intervene out of worry, but the second of Roethlisberger's bodyguards—an off-duty Pennsylvania State Trooper—avoided eye contact and said he did not know what they were talking about. The policemen later claimed to "have no memory" of meeting the victim.[95]
On April 12, 2010, district attorney Fred Bright held a press conference to announce that Roethlisberger would not be charged. Bright said "looking at all the evidence here, "I can not prove guilt beyond a reasonable doubt". "[94] Furthermore, the victim wrote to the D.A. through her lawyer expressing she no longer wanted to pursue criminal charges[96] because the level of media attention would make a criminal trial too "intrusive" of a personal experience. The letter stressed that she was not recanting her accusation.[97]
As a result of the unabridged details revealed in Bright's press conference, reaction was swift. Steelers president Art Rooney II was reported to be "furious".[98] The owner of Pittsburgh-based PLB Sports, which marketed "Big Ben's Beef Jerky", terminated the company's five-year sponsorship of Roethlisberger, the first such action in the company's 14 year history.[99][100] The incident has also garnered media attention for the potential discrepancies in player treatment based on race, as black players like Michael Vick and Adam "Pacman" Jones were disciplined harshly for their off-the-field conduct.[101] Milledgeville Police Sergeant Jerry Blash, who had been photographed with Roethlisberger earlier in the evening, was the first officer to respond to the scene. He resigned on April 15, 2010, after apparently making a comment at the scene that "this bitch is drunk" in reference to the accuser.[102]
Roethlisberger was among the celebrities lampooned in the 14th season premiere of the Comedy Central animated series South Park, appearing in a rehabilitation class for "sex addicts" along with David Letterman, Bill Clinton, and others. Titled "Sexual Healing", the episode aired shortly after the second accusation of sexual assault was made.[103]
Rapper Eminem blasted Roethlisberger in a freestyle entitled "Despicable", which was released on his website and will not be featured on his album Recovery. In it Eminem says "I'd rather turn this club into a bar room brawl/Get as rowdy as Roethlisberger in a bathroom stall." [104] Eminem also blasted him on the song "Almost Famous" that is on Recovery with the line "I stuck my dick in this game like a rapist, call me slim Roethlisberger."[105]
2010 suspension
On April 21, 2010, the NFL's Commissioner Roger Goodell announced that Roethlisberger will be suspended for six games without pay in the upcoming season due to a violation of the NFL's personal conduct policy. In the meantime, Roethlisberger will undergo a league-mandated "professional behavior evaluation" and "must adhere to any counseling or treatment that is recommended by the professional evaluators."[106]
Records
Miami Redhawks records
Miami University is in Oxford, Ohio, and all records are from the 2008 media guide.[107]
Most Pass Attempts, Career - 1,304 (2001–03)
Most Pass Attempts, Season - 495 (2003)
Most Pass Completions, Career - 854 (2001–03)
Most Pass Completions, Season - 342 (2003; also a MAC record)
Most Pass Completions, Game - 41 (vs. Northern Illinois, 2002; MAC record) [108]
Most Passing Yards, Career - 10,829 (2001–03)
Most Passing Yards, Season - 4,486 (2003; also a MAC Record)
Most Passing Yards, Game - 525 (vs. Northern Illinois, 2002)
Most Passing Touchdowns, Career - 84 (2001–03)
Most Passing Touchdowns, Season - 37 (2003)
Most Passing Touchdowns, Game - 5 (did it at Ohio in 2001 and at UCF in 2003; tied with Sam Ricketts)
Most Total Offense Yards, Career - 11,075 (2001–03)
Most Total Offense Yards, Season - 4,597 (2003)
Most Total Offense Yards, Game - 485 (vs. Northern Illinois, 2002)
Most 300+ Yard Passing Games - 14
Most 400+ Yard Passing Games - 4
Most Games w/4+ TD Passes - 7
Highest Completion %, Career (Min. 300 attempts) - 65.5% (2001–03)
Highest Completion %, Season (Min. 100 attempts) - 69.1% (2003)
(Tie) Most Games in a Season w/200+ Yards Passing - 14 (2003; NCAA Record)
(Tie) Consecutive Games in a Season w/200+ Yards Passing - 14 (2003; NCAA Record)
NFL records
Pittsburgh Steelers franchise records
In six seasons, Roethlisberger has many individual accomplishments that are record performances in Steelers history.[116][117]
Career records
68-28 (.708) record as starting QB (includes a 8-2 playoff record)
.708 winning percentage is the highest among all Steelers QBs with at least 20 starts
Highest Passer Rating (Min. 100 attempts) — 91.7
Highest Completion % (Min. 100 attempts) — 63.3%
Highest Yards Per Attempt (Min. 100 attempts) — 8.01
Most 300+ Yard Passing Games — 13
Most 400+ Yard Passing Games — 3
Most 500+ Yard Passing Games — 1
Most 3000-Yard Passing Seasons — 4
Most Consecutive 3000-Yard Passing Seasons — 4 (2006–2009)
Most 4000-Yard Passing Seasons — 1
Most Consecutive Games With a TD Pass — 15 (from December 3, 2006 through November 18, 2007)
Most Games with a Passer Rating over 100.0 (regular season) — 37[118]
Most Games With a Perfect Passer Rating — 3
Biggest contract in Steelers history (eight years, $102 million)[119]
Season records
Highest Completion % — 66.6% (2009)
Most Touchdown Passes — 32 (2007)
Highest TD% — 7.92% (2007)
Highest Yards Per Attempt — 8.90 (2005)
Highest Passer Rating — 104.1 (2007)
Most Passing Yards — 4,328 (2009)
Most 300+ Yard Passing Games — 5 (2009)[120]
Most Pass Completions — 337 (2009)
Single-game records
Rookie records (achieved during 2004 season)
Most Pass Attempts — 295
Most Pass Completions — 196
Highest Completion % — 66.4%
Most Passing Yards — 2621
Most Touchdown Passes — 17
Highest Yards Per Attempt — 8.88
Highest Passer Rating — 98.1
Wins as starting QB — 13
Postseason records
Highest Completion % (Min. 50 attempts) — 61.9%
Highest Passer Rating — 87.2