Chad Steven Henne (born July 2, 1985) is the starting quarterback for the Miami Dolphins of the National Football League. He was drafted by the Dolphins in the second round of the 2008 NFL Draft. He played college football for Michigan.
Chad was born in Wyomissing, Pennsylvania to Sheldon and Suzanne Henne.
In 2000, fives games into his freshman season at Wilson Senior High School in West Lawn, Pennsylvania, Henne stepped in for the injured starting quarterback. After putting up quality numbers, the Bulldogs coach decided to allow Henne to finish the season as the starter. Finishing the 2000 season on a high note, Henne ended up starting his sophomore year and ultimately the rest of his high school career. At the time, Henne was catching the eyes of many college coaches around the nation, being noted as one of the top QB prospects[1]. At the end of his junior year in 2003, having been offered forty scholarships from various schools, Henne narrowed his college options down to five schools: Miami, Michigan, Georgia, Tennessee, and Penn State.[2] Before his first game as a senior, Henne announced his plans to become a Wolverine at the University of Michigan. By the end of his senior year in 2004, Henne had thrown for a total of 7,071 passing yards, ranking third all time in Pennsylvania state history.[3].
Following his high school career, Henne played in the 2004 U.S. Army All-American Bowl as a member of the East team, along with current Dolphins teammate, Ryan Baker.[4]
College career
Henne began his Michigan football career starting at quarterback as a true freshman in 2004, the first Wolverine to do so since Rick Leach in 1975. Alongside freshman running back Mike Hart, he galvanized an explosive offensive unit that featured receivers Braylon Edwards, Jason Avant, and Steve Breaston. Henne's freshman season was highlighted by a triple-overtime win over rival Michigan State and a record-tying performance in the Rose Bowl against Texas. He also tied the Michigan season record for touchdown passes with 25, first set by Elvis Grbac in 1991.
Henne was criticized in 2005 after the University of Michigan, ranked in the top five of the preseason polls, stumbled to a 3–3 start. The sophomore quarterback was particularly scrutinized after his performance in a close loss to Notre Dame, in which he completed fewer than half of his pass attempts and lost a fumble on the goal line. After their 3–3 start, Michigan won four consecutive games to clinch the program's 21st consecutive winning season
During his junior season in 2006, Henne completed 203 of 328 passes for 2,508 yards, 22 touchdowns, and 8 interceptions. He led the Wolverines to an impressive 11–0 start and a #2 ranking through the third week of November, but for the third straight year Michigan concluded their season by losing to Ohio State again and then dropping their bowl game, this time to USC.
During his senior year in 2007, Henne completed 162 of 278 passes for 1,938 yards, 17 touchdowns, and 9 interceptions. He suffered a knee injury in the first half of the second game of the season against Oregon, and sat out the second half, as well as subsequent games against Notre Dame and Penn State, before returning to the starting lineup against Northwestern. Henne played his final college game against Florida in the 2008 Capital One Bowl. Henne was named the MVP of the game after he led his team to a 41–35 victory over the Gators and reigning Heisman Trophy winner, Tim Tebow.
For his career, Henne completed 828 of 1,387 passes for 9,715 yards, 87 touchdowns, and 37 interceptions.[5] All five marks are school records. Henne's passing touchdown total is second in Big Ten Conference history.
Professional career
2008 season
Henne was drafted by the Miami Dolphins in the second round (57th overall) of the 2008 NFL Draft. He was the fourth quarterback chosen, following Matt Ryan (Falcons), Joe Flacco (Ravens) and Brian Brohm (Packers). His left tackle at Michigan, Jake Long, was drafted by the Dolphins first overall.[6]
Henne was a training camp holdout for under a day, agreeing to a four-year, $3.5 million contract with the team on July 26. He earned the #2 quarterback job behind starter Chad Pennington out of training camp.
On September 14, 2008 Chad Henne made his NFL debut with 9:42 left in the game against the Arizona Cardinals. Chad's first NFL play was a pass over the middle that was broken up. For the game, he was 7 of 12 for 67 yards with a passer rating of 74.0. He led the team to its only touchdown, with RB Ronnie Brown scoring on a 1-yard run. The Miami Dolphins lost, 31–10.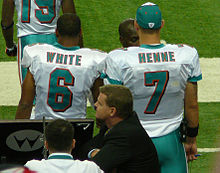 2009 season
On March 25, 2009, ESPN analyst Chris Mortensen reported that the Dolphins had plans to groom Henne for the starting quarterback position by the 2010 season.[7]
On September 27, 2009, in the early third quarter of their road game versus the San Diego Chargers, San Diego linebacker Kevin Burnett knocked Chad Pennington out of the game with a dislocated shoulder and a torn rotator cuff, and Henne was thrust into action. Though he led the Dolphins to ten points in the final 20 minutes of the game, he failed to throw his first regular season touchdown and even had a pass intercepted and returned for an easy touchdown by Eric Weddle.
After Chad Pennington's season ending injury, Henne made his first start on October 4, 2009, against the Buffalo Bills at home. Henne went 14–22 in his pass attempts with one touchdown pass in the Dolphins' 38–10 victory, lifting the team's record to 1–3.
In his 2nd NFL start, he led the underdog Dolphins over the Jets, 31–27, in a Monday Night Football game. He had 20 completions out of 26 attempts for 241 yards with two touchdowns, in this game Henne had his second win as starter and made a 53 yard TD completion to Ted Ginn, Jr.
Henne consistently improved as the season went on, passing for 335 yards against the New England Patriots in Week 13. In Week 15, Henne passed for 349 yards in a loss to the Tennessee Titans. In Week 16, Henne passed for 322 yards in a loss to the Houston Texans. In Week 17 against the Pittsburgh Steelers, Henne sustained an eye injury and had to leave the game. This happened to be the turning point of the game, Henne had already completely 16 of 20 passes for 140 yards with one touchdown and one interception.
Personal
Henne married Brittany Hartman on July 3, 2010, the day after his twenty-fifth birthday. The couple began dating when Henne was fourteen years old.