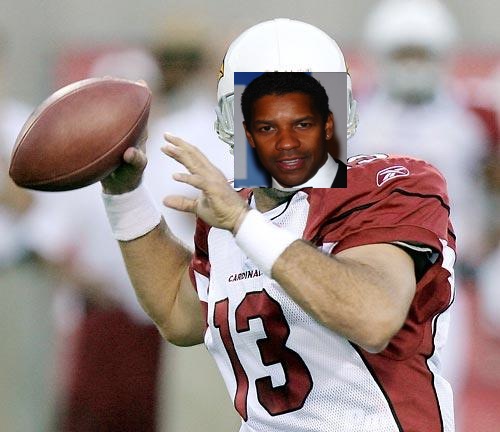 Per AZCentral:
No one would blame Kurt Warner if he had regrets. It is one thing to proceed with retirement. It is another to accept the finality of it.

So . . .

"Not at all," Warner said Monday.

And the collective hearts of Cardinals fans break once more.

The quarterback isn't simply accepting retirement, he's embracing it. If he's not getting his kids ready for school, he's sorting through television offers. If he's not brainstorming about his First Things First Foundation, he's preparing for his work as an NFL television analyst.

"It wasn't difficult watching (Saturday's preseason game) at all, because I didn't feel like I was supposed to be there," he said. "While I still feel attached to it to some degree, it didn't feel like I was missing out on something."

Unlike many other professional athletes, Warner already had a post-retirement plan in place. Family. Foundation. Throw in movie and broadcasting offers, and who has time to be restless?

Warner was a bit coy about some of the opportunities he has been presented, primarily because contracts are in the works. Here is what we know for certain:

Warner will work as a Fox analyst on at least three NFL games, the network announced Sunday. And to prove TV does have a sense of humor, he'll be replacing Trent Green, whom he replaced in 1999 before leading the St. Louis Rams to the Super Bowl.

His first game will be Oct. 10, when the New Orleans Saints visit the Cardinals.

He has been offered a variety of reality TV opportunities, including an invitation to compete on "Dancing With the Stars." Warner wouldn't comment, but the Washington Post has reported it's a done deal. The official announcement of the 11th season's cast will come during the Aug. 30 broadcast of "Bachelor Pad."

His family also has been pitched several reality shows that would follow the experiences of the quarterback, his wife, Brenda, and their seven children.

"There are a lot of neat angles and interesting ideas, but you really have to weigh if it's good for what we're promoting or not," he said. "Can we balance it or would it be too overwhelming?"

He has met with producers interested in doing a movie on his life story. If Brenda had her way, Warner said, Denzel Washington would land the lead role.

"It would probably challenge Denzel in ways he's never been challenged before," Warner mused.

He hinted more broadcasting opportunities are in the works but didn't want to specify until contracts are finalized.

Warner already has appeared on the NFL Network and will provide analysis for the Arena Football League, including the Arena Bowl on Friday.

He is a natural: telegenic and insightful with a wealth of game experiences from which to draw.

He's not concerned about critiquing his peers, "Because there's a certain way to do it, and you don't make it personal."

He remains fully engrossed in his foundation, which does outreach in the community for those in need.

"We're changing things up a bit, going in some new directions," he said. "We still have so much we want to accomplish."

Warner said he stays in touch with many of his teammates, including good friend Larry Fitzgerald and heir apparent Matt Leinart. He enjoyed watching Saturday's victory over Houston but didn't want to analyze because it's "too hard to evaluate when you're just watching TV.

"I don't know what's going on. Something could look like a terrible throw, but who's to say what route it was supposed to be?"

Warner, meanwhile, has been presented a variety of routes. He seems to be embracing every one of them.