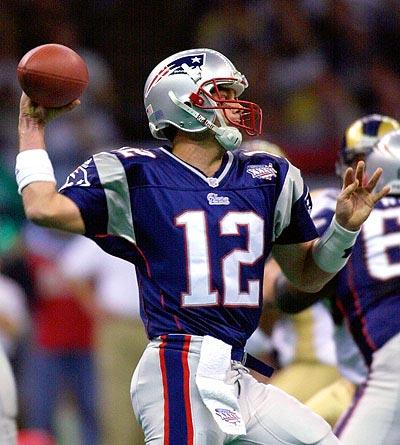 Tom Brady threw his first interception since October, so he wasn't perfect in the New England Patriots' opener.
A record-setting arms race
Quarterbacks and returnmen reigned supreme during Week 1. Here are some of the record-setting numbers:
»
7,842
: The total passing yards in Week 1, an average of 245 per team.
»
906
: Yards that the Patriots' Tom Brady (above) and the Dolphins'
Chad Henne
combined for in Monday night's matchup.
»
14
: Quarterbacks who passed for more than 300 yards.
»
8
: Return touchdowns, five on punts and three on kickoffs. The 49ers'
Ted Ginn
had one of each.
»
5
: Games with a pair of 300-yard passers.
He was close, though.
Brady threw for a team-record 517 yards and four touchdowns, including a 99-yarder to Wes Welker, and the reigning AFC East champions started with a victory for the eighth consecutive season Monday night by beating the Miami Dolphins 38-24.
Defensive end Jared Odrick picked off a deflected pass to set up a Miami touchdown and end Brady's NFL-record streak of 358 passes without an interception. Otherwise, Brady and the Patriots picked up where they left off last season, when he threw for 36 TDs and his team led the league in scoring.
New England totaled 622 yards, the most in franchise history and the most allowed by Miami.
Brady, who went 32-of-48 passing, became the 11th quarterback to throw for at least 500 yards. Norm Van Brocklin set the record of 554 yards in 1951.
The capper came with 5:44 left and the Patriots leading 31-17. After they stopped Miami on downs at the 1-foot line, Brady lined up in the shotgun on first down and threw from his end zone to Welker, who had slipped behind Benny Sapp near the 30-yard line. Welker caught the pass in stride and sprinted untouched for the score to complete the longest play in Patriots history.