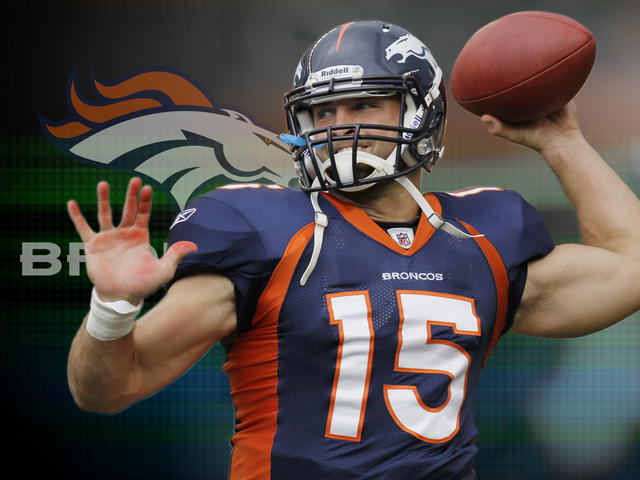 The Denver Broncos have confirmed Tim Tebow will be their starting quarterback after the bye week in a game against the Miami Dolphins.
The Broncos (1-4) say they will have two practices for him this week as the starter going into the bye and will install training camp-like practices to facilitate the change in starting quarterbacks.
The timing of the move is unique. The Broncos play the Dolphins Oct. 23 in Miami, and the Dolphins, who lost Chad Henne for the season with a shoulder injury, had been trying to trade for benched starter Kyle Orton before the start of training camp.
The trade deadline is Oct. 18, but it would seem unlikely the Broncos would trade Orton to Miami and have him potentially start against Tebow.
The game at Sun Life Stadium will be a homecoming of sorts for Tebow. The Dolphins plan to honor the 2009 University of Florida national championship team at halftime.
Tebow ran for a touchdown and threw for another after replacing Orton to start the third quarter Sunday against the San Diego Chargers, and had one final shot for the win before his pass fell incomplete in the end zone on the last play.
Tebow completed four of his 10 passes for 79 yards. He also ran six times for 38 yards.
Tebow's footwork and throwing mechanics remain a work in progress as he tries to morph from a combination college quarterback to a pocket passer in the pros.
In 12 career games, Tebow has completed 45 of 92 passes (48.9 percent) for 733 yards, six touchdowns and three interceptions. He also has rushed for 264 yards and seven touchdowns.
Tebow never came close to beating Orton this summer for the starting spot, and even was outplayed by Brady Quinn.
But Broncos fans started calling for him anyway when Orton had a poor performance in Denver's 23-20 loss to Oakland in the Monday night season opener. A group of fans even purchased billboard space in Denver calling for Tebow to take over as the starter.
Tebow started the final three games of the 2010 season, when he went 1-2. Orton has a 12-21 record as the Broncos' starter.