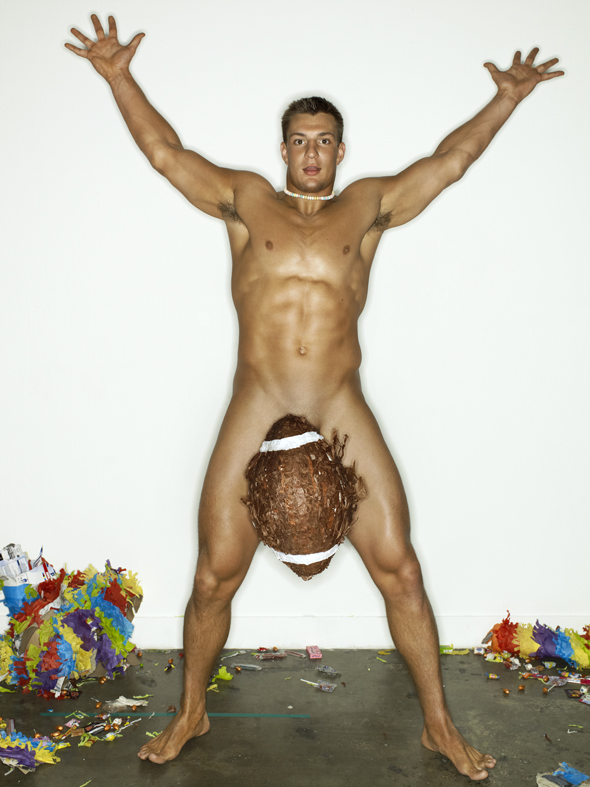 There's nothing like nude-ish photos of Rob Gronkowski to take some of the heat off Robert Kraft.
ESPN The Magazine's Body Issue hits newsstands on Friday, just in time for Gronkowsi's participation to distract Patriots Nation from the moment's No. 1 news item, which happens to be abizarre, embarrassing viral video of Kraft, the team owner, and his much-younger girlfriend, Ricki Lander.
According to the Boston Herald, the video was meant to be a "prank" screen testfor a Vince Vaughn movie, and nobody knows who leaked it. What we do know is that Kraft, the quintessential good guy and one of the most respected owners in the NFL, has taken a huge hit in terms of his reputation, given the video's lewd content.
Enter Gronk, who's never been scared of a little dose of embarrassing.
There couldn't be a better time for Gronk's ESPN The Magazine cover to hit the newsstands. It's guaranteed to distract Patriots Nation, at least for a little while and knock this embarrassing Kraft story onto the back burner, hopefully for good.
Most likely, it can serve as a suitable distraction until training camp, and the 2012 season, begin.
Gronk definitely knows what it's like to be in the middle of a PR mess. There was hispost-Super Bowl partying, for which he was destroyed in the court of public opinion. There's The Choice—but then again, Gronk intentionally made himself a part of that show, so maybe it doesn't qualify as a PR disaster.
Nor does his Body Issue cover, which helps the star tight end simultaneously prove that he takes himself incredibly seriously and not seriously at all. From one look atthese photos, it's clear that Gronk, despite his fun-loving reputation, trains as hard as anybody on the Patriots. You can't look like that unless you do.
But keeping in line with his goofy persona, his photos are lighthearted and fun and completely devoid of the dark, moody overtones of some of the issue's other photos (that means you, Tyson Chandler).
Gronkowski was on hand to celebrate the issue's release in Los Angeles on Tuesday, and when the issue officially comes out on Friday, he's likely to be the subject of even more abundant news stories—about taking heat from his teammates, about his training regimen, etc., etc.
And the more attention he gets, the less will be left over for Kraft.
At this point, there can't be anyone on the planet who's more excited about the fact that Gronk is posing nude on a magazine cover than the man who pays him. And it's not every day that you can say that.