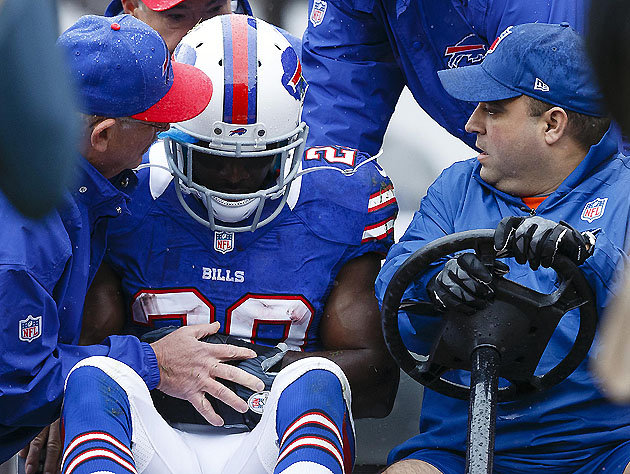 Spiller:
Healthy running backs are fast becoming an endangered species in Buffalo.
C.J. Spiller joined former starter Fred Jackson on the Bills' growing list of wounded players when he injured his shoulder during the first half ofBuffalo's win against Cleveland.
But like Jackson, Spiller could be back earlier than expected.
CBSSports.com's Jason La Canfora reports the Bills believe their talented third-year back suffered a strained AC joint, not a separated shoulder. As a result, Spiller could avoid a lengthy absence and return to action in "one-to-two weeks."
Jackson is recovering far more quickly than expected from the right knee injury he suffered a Week 1 loss to the Jets and could return to practice this week.
"Fred will practice this week," Bills Coach Chan Gailey said Monday. "I don't know if it'll be Wednesday or Thursday, but he should practice at some point this week. His recovery has been amazing."
With Spiller out, veteran Tashard Choice stepped up with 91 yards on 20 carries. If Jackson can't make it back in time, Choice should get the start Sunday against New England. Second-year back Johnny White, who had 15 yards on two carries against the Browns, would likely back him up.
"Tashard Choice is a pretty good back," Gailey said. "I have no qualms about running with him."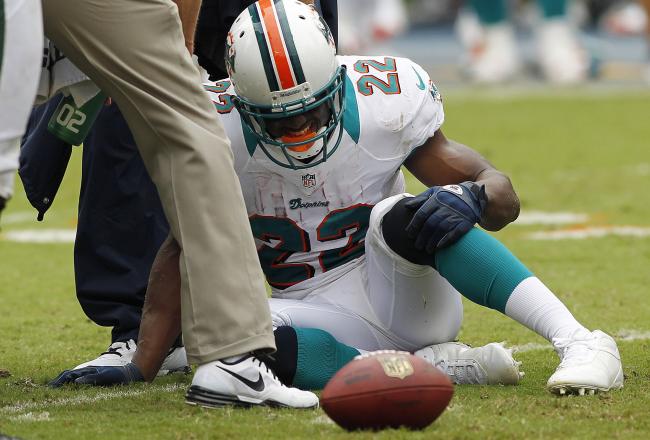 Bush:
An MRI showed Miami Dolphins running back Reggie Bush did not suffer any structural damage to his left knee, and he could play Sunday at Arizona, a league source told ESPN NFL Insider Adam Schefter.
Bush tweeted earlier Monday, hinting that he had avoided a serious knee injury.
He wrote: "Received some great news today! Praise the Lord!"
Bush limped off the field with 23 seconds left in the first half of Miami's overtime loss to the Jets.
Bush had 61 yards on 10 carries in Sunday's game, the last coming on a first-and-10 from the Miami 20. He was tackled and rolled over once, grabbing at his left knee before being tended to by trainers.
Followed by members of the team's medical staff, Bush left the field through one of the former baseball dugouts at Sun Life Stadium, which is closer to the Dolphins' sideline than the end zone tunnel.
Bush entered the day second in the NFL with 241 rushing yards, second only to Buffalo's C.J. Spiller, who was injured against Cleveland earlier Sunday.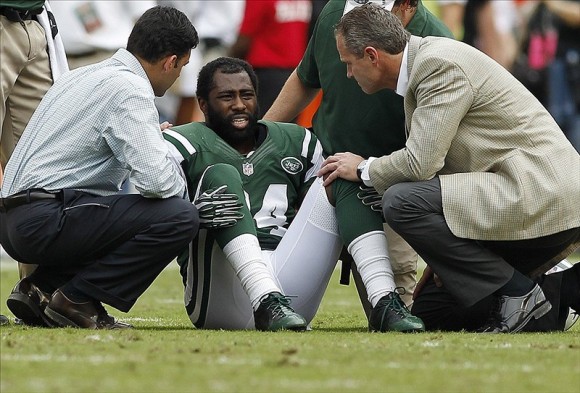 Revis:
Star cornerback Darrelle Revis tore the ACL in his left knee and will require season-ending surgery, New York Jets coach Rex Ryan announced Monday.
Revis underwent an MRI exam Monday morning, confirming the team's worst fears. Their All-Pro was hurt in the third quarter of Sunday's overtime win over the Miami Dolphins, a non-contact injury that occurred when he was trying to tackle running back Daniel Thomas on a screen pass.
It's a crushing blow to the Jets' defense, which already is off to a slow start. They're ranked 21st in yards allowed.
A somber Ryan wouldn't definitively rule Revis out for the season Monday, saying he just found out about the results of the MRI exam. But Revis will have to wait two or three weeks before having surgery, Ryan said, and the recovery from an ACL tear is normally between six and nine months.
"It's just disappointing," Ryan said. "This guy wants to win. As great a player as he is individually, he's a great teammate and just wants to win. That's why he was so excited about this year."
Kyle Wilson, the team's first-round draft pick in 2010, will now step into Revis' starting role opposite Antonio Cromartie.
Still, Ryan insists he is not panicking about the season.
"It never happens," Ryan said. "We have enough to get it done here. … We'll find a way to get this done."
Heyward-Bey:
Oakland Raiders receiver Darrius Heyward-Bey has been discharged from the hospital after spending the night under observation for a concussion and neck strain he suffered in Sunday's win over the Pittsburgh Steelers.
Heyward-Bey was released Monday morning from Eden Medical Center and was expected to make a full recovery, the Raiders said in a statement.
Heyward-Bey was hurt following a helmet-to-helmet hit from Steelers safety Ryan Mundy that was not penalized in the 34-31 victory.
Heyward-Bey was running across the end zone early in the fourth quarter Sunday to catch a pass from Carson Palmer when Mundy launched his body and lowered his helmet into Heyward-Bey's facemask. Heyward-Bey's neck jerked violently and his head also crashed into the ground. The pass was incomplete.
The Oakland Coliseum crowd fell silent. Mundy and players from both sides kneeled in prayer. The home fans also started a derogatory chant at the replacement officials.
"We don't play like that," Mundy said. "We don't try to injure people or anything like that. We understand this is people's livelihood. We take that serious."