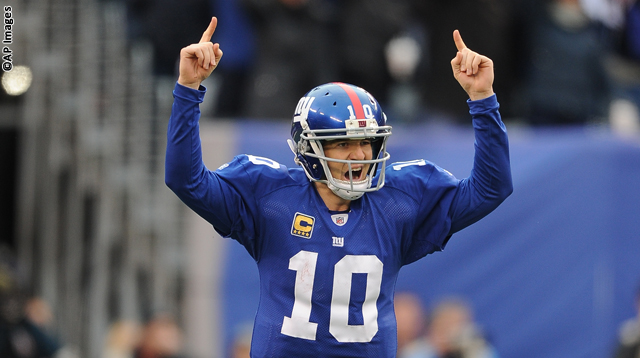 Eli Manning threw three touchdown passes, and the New York Giants ran all over the Atlanta Falcons in a 24-2 rout in an NFC wild-card game Sunday.
Manning, who's having his best NFL season, connected with Hakeem Nicks for a 72-yard score and Mario Manningham on a 27-yarder as the Giants (10-7) pulled away from the inept Falcons (10-7) in the second half.
Manning also threw a 4-yard TD pass to Nicks in the first half, which came after the quarterback scrambled 14 yards to spark the 85-yard drive.
While Manning came through with touchdown passes, the tempo was set by New York's defense, which never allowed Atlanta to get going, and the league's lowest-ranked rushing game, which ran for a season-high 172 yards. Brandon Jacobs led the way with 92 yards on 14 carries.
The Giants travel to Green Bay next Sunday to play the defending Super Bowl champion Packers (15-1), who beat them 38-35 in December.