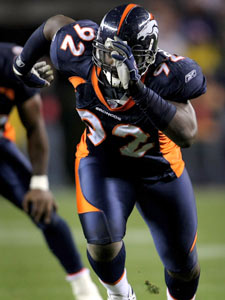 Per Shutdown Corner:
The Josh McDaniels administration has chased off most of the disgruntled Denver Broncos players it inherited - Jay Cutler(notes), Brandon Marshall(notes), and Tony Scheffler(notes) have all been knifed out of the picture since McDaniels took over for the fired Mike Shanahan before the 2009 season. However, defensive end/linebacker Elvis Dumervil(notes), who was engaging in his own contract squabbles after finding himself stuck with a one-year, $3.168 million tender offer as a restricted free agent, now finds himself among the highest-paid defenders in the NFL.The Broncos announced on Thursday that Dumervil agreed to terms on a five-year, $61.5 million contract extension that will take him through the 2015 season and pay him $43.156 million guaranteed. The deal is similar to the one struck by the Baltimore Ravens and Terrell Suggs(notes) in July of 2009 - that deal gave Suggs $62.5 million over six years, and $38.1 million guaranteed (including a $23 million roster bonus in March of 2010).

As good as Suggs has been, it's easy to argue that the deal for Dumervil is a bargain in comparison if the Denver pass rusher maintains the standards he set in 2009. Dumervil didn't just lead the NFL with 17 sacks; he also added 20 quarterback hurries, four quarterback hits, and four forced fumbles (the picture above could explain why Jamarcus Russell(notes) needed all that purple drank). These totals were especially impressive considering Dumervil's move from a 4-3 to a 3-4 defense and the relatively thin support he's received through his career from complementary pass rushers - throughout his four-year career, Dumervil has regularly ranked high among pass rushers with the highest team percentages of quarterback disruptions. On the other hand, Suggs showed up to training camp out of shape in 2009 and amassed just 4½ sacks, two hits, 14 hurries, and one forced fumble. And this with a much better defense around him.

Dumervil may have a slightly tougher time in Denver's 2010 defense with coordinator Mike Nolan off in Miami, only to be replaced by a guy named Don "Wink" Martindale, but it's good to see the Broncos pony up for one of their stars instead of petulantly draining the roster dry any time someone offends His Joshness with a compensation concern.