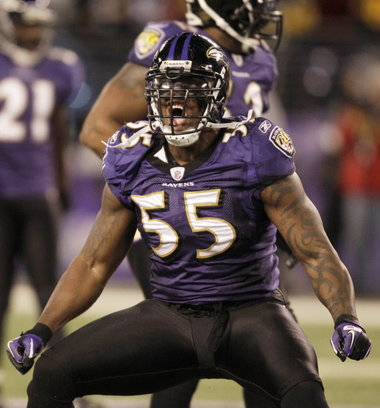 Per NFL.com:
Baltimore Ravens linebacker Terrell Suggs has torn his Achilles and will likely miss the 2012 season, a source with knowledge of the situation said Thursday.

Suggs was working out and doing drills in Arizona, which is his normal offseason plan. It's a huge blow for the pass-rush hungry Ravens, who will be without the reigning NFL Defensive Player of the Year.

Suggs likely will see a specialist next week and surgery is expected as soon as possible.

The Ravens did not immediately confirm the injury, but released a statement via their official Twitter feed.

"We are in contact with Terrell. He will see a specialist early next week, and we'll know more at that time."

Ravens' first-round draft pick Courtney Upshaw tweeted, "Only God know what my future is going to be like in my zone!!!!" Upshaw may be called upon to fill in and replace Suggs' production.

Suggs had a career-high 14 sacks during the 2011 season along with two interceptions. Suggs was a first-team All-Pro selection for the first time last season and has made the Pro Bowl five times in his nine-year career.