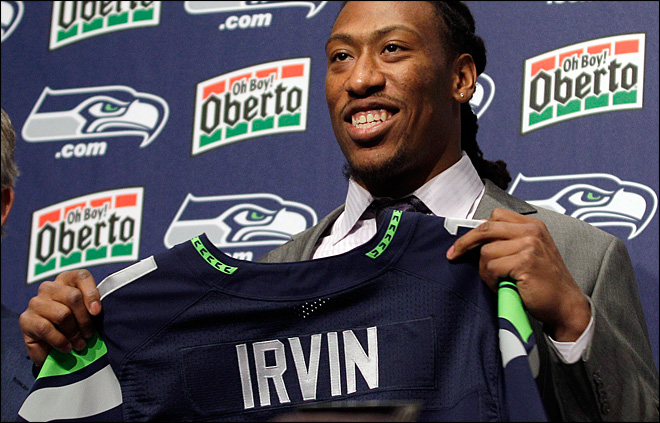 Per NFL.com:
The Seattle Seahawks and their top draft pick, pass rusher Bruce Irvin from the University of West Virginia, have agreed to terms on a contract, a source with knowledge of the situation said Monday.

The Seahawks later confirmed that Irvin — as well as seven other draft selections — and the team had agreed to terms on Monday.

The defensive end is the first first-round draft pick to agree to terms on a contract. He was selected by the Seahawks with the No. 15 overall pick.

The other draft picks to agree to terms were: Bobby Wagner, LB, Utah State (second round); Russell Wilson, QB, Wisconsin (third round); Korey Toomer, LB, Idaho (fifth round); Jeremy Lane, CB, Northwestern State (sixth round); Winston Guy, S, Kentucky (sixth round); J.R. Sweezy, G, North Carolina State (seventh round); and Gregg Scruggs, DE, Louisville (seventh round). Fourth-round picks Robert Turbin (RB, Utah State) and Jaye Howard (DT, Florida) remain as the only picks from the Seahawk's 2012 draft class yet to agree to terms.

After Seattle chose Irvin, the New York Jets reportedly called the Seahawks and "good naturedly" cursed them out for taking the player they planned on taking with the very next pick in the draft.

Seahawks general manager John Schneider said he was worried about how long Irvin would remain available in the draft because there wasn't much conversation about the defensive player.

"The only problem is, (Irvin) was so quiet — people weren't talking about him. And quite honestly, that made me uncomfortable," Schneider said.

At West Virginia, Irvin collected 14 sacks as a junior and 8.5 as a senior.