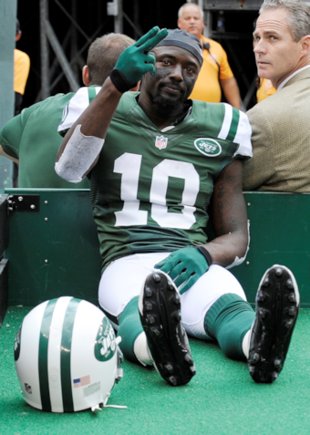 Things just got a lot tougher for the struggling New York Jets.
Wide receiver Santonio Holmes will miss the rest of this season with an injured left foot, leaving the Jets without their top offensive playmaker. The team announced Wednesday that ­Holmes will require surgery and was placed on season-ending injured reserve.
''Obviously, that's a big loss for us,'' coach Rex Ryan said. ''Santonio's one of the top receivers in the game, and it is a big loss.''
The news came just over a week after star cornerback Darrelle Revis was likely lost for the season with a torn ligament in his left knee — although the Jets haven't placed him on IR yet, in case, Ryan said, he recovers in time to play in the Super Bowl.
But that leaves the Jets (2-2) now without their best players on defense and offense as they try to return to the playoffs this year after missing out last season. Ryan insisted, however, that the team's expectations have not changed.
''We have to rally around each other, for sure,'' Ryan said, comparing the situation in 2009 when the Jets lost nose tackle Kris Jenkins and running backLeon Washington in consecutive weeks — and still made it to the AFC Championship game.
''It does test the resolve of your team, but that's one of our strengths,'' Ryan added. ''It's unfortunate, but that's what happens.''
Ryan also pointed out that, despite their struggles, the Jets still lead the AFC East with a 2-0 record in the division.
''Woe is me?'' Ryan said defiantly. ''How many people are going to feel sorry for the New York Jets? Myself, I know the answer to that: Nobody.''