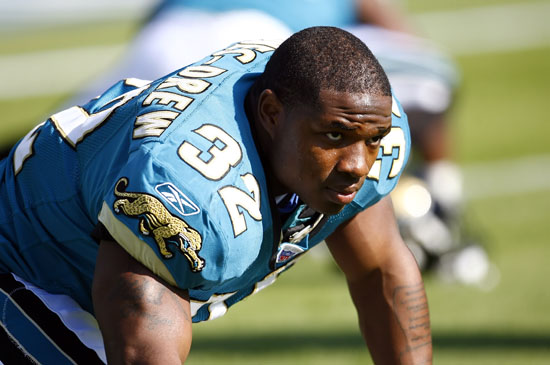 Per NFL:
Maurice Jones-Drew's contract standoff has officially reached its holdout stage.

Albert Breer of NFL Network reports that the Jaguars running back will not report to training camp with the rest of his teammates on Tuesday for mandatory minicamp. MJD has skipped offseason work to this point, but all of OTA season is voluntary. This three-day minicamp is not. Jones-Drew can be fined up to $60,000 for missing the camp.

On Monday, Jaguars general manager Gene Smith gave the clearest indication yet that we are headed for a lengthy standoff. Smith indicated he expected Jones-Drew to honor his contract.

"He has expressed that he would like to renegotiate and we have expressed, again, that we feel he has a contract with two years left and we expect him to fulfill those obligations," Smith said.

Smith would support coach Mike Mularkey if he wants to fine Jones-Drew. Jones-Drew, 27, has two years left on a five-year deal he signed in 2009. At the time, it made him one of the three highest paid backs in the league. Other running backs have zoomed past and he is trying to cash in after a monster 2011 campaign.

This is a holdout that threatens to extend well into training camp. The Jaguars have made their position clear and seem unlikely to bend anytime soon. Unless Jones-Drew capitulates, this is a story that could just be starting.