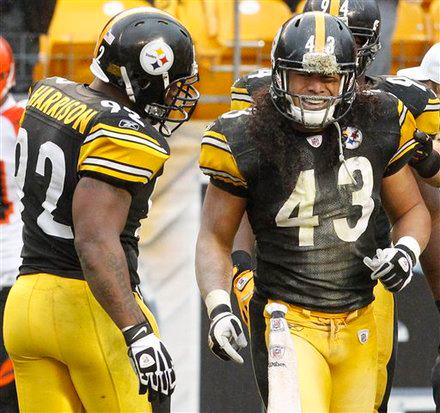 Linebacker James Harrison and safety Troy Polamalu did not take part in the Steelers' final practice of the week and will not play Sunday at Oakland. This would be a great time to check out some sports betting and see if its worth wagering on the Raiders putting up some points with the Steelers defense diminished.
The defensive standouts — named to a combined 12 Pro Bowls — will not dress for the second consecutive game. Harrison, who had surgery on his left knee Aug. 15, has not played yet this season. Polamalu missed last week's win over the New York Jets because of a calf injury.
The Steelers (1-1) have a bye week after playing the Raiders (0-2), but they play twice in five days, beginning Oct. 7.
Ryan Mundy will start in place of Polamalu and Chris Carter will replace Harrison.
Running back Rashard Mendenhall also will not play, but continues to progress after another full week of practice in his rehabilitation from a torn ACL.
Tight end Heath Miller (rib cage soreness) returned to practice Friday and is expected to play against the Raiders.
Linebacker Stevenson Sylvester also was ruled out with a knee injury.