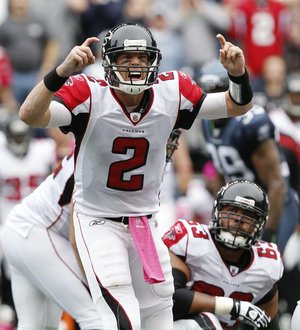 Matt Ryan threw for 291 yards, and rookie Julio Jones caught 11 passes for 127 yards as the Atlanta Falcons held off a second-half rally for a 30-28 victory over the Seattle Seahawkson Sunday.
Ryan was brilliant in the first half. He started 13-of-15 passing and had a 1-yard touchdown throw to Tony Gonzalez on Atlanta's first possession. Michael Turner also ran for TDs of 21 and 1 yards in the first half for the Falcons (2-2).
Matt Bryant's 50-yard field goal early in the third quarter gave Atlanta a 27-7 lead.
That's when Seattle's rally started. Tarvaris Jackson threw for three TDs, but the Seahawks (1-3) couldn't complete the comeback, and Steven Hauschka missed a 61-yard field-goal attempt with 13 seconds left.