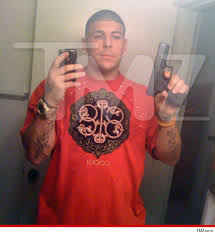 Aaron Hernandez, the former New England Patriot charged with the murder of semi-pro football player Odin Lloyd, was denied bail Thursday during an appearance in Massachusetts Superior Court.
Judge Renee Dupuis said she was not comfortable with releasing Hernandez to house arrest or with a wrist bracelet after listening to evidence presented from the assistant district attorney accusing Hernandez of sending a text message to two unidentified friends a day before the murder and asking them to hurry to Massachusetts from Connecticut.
In a statement on Twitter Thursday night, the North Attleboro Police Department said it is searching for Ernest Wallace, who is wanted for "accessory after the fact of the murder" of Lloyd and is considered "armed and dangerous."
Jamie Sultan, one of Hernandez's lawyers, argued that his client is not a flight risk because he has deep ties to the community. His celebrity status, even if he wanted to flee, would make any attempt to do so virtually impossible, Sultan said. He noted that Hernandez has no criminal history and lives with his fiancée and their eight-month-old daughter.
The judge noted that it is rare to see a person charged with first degree murder released on bail. Sultan called his client an "unusual defendant."
"He shouldn't get special treatment because he's a celebrity," Sultan said. "The facts that support bail and his particular case happens to be unusual."
Dupuis disagreed and said often murder defendants have ties to the community.
"I think the commonwealth has presented a case that's circumstantial, to be sure, but very, very strong," Dupuis said.
Bristol County Assistant District Attorney Bill McCauley reiterated his argument from Wednesday's arraignment. He said said Hernandez was upset the alleged victim, Lloyd, talked to people at a club with whom Hernandez had trouble. He also said Hernandez had the will and means to run.
"The evidence of his guilt is overwhelming," McCauley said.
Hernandez interfered with the "movement" of the investigation, told a girlfriend not to talk to police and surveillance footage had been destroyed, he said.
McCauley said a search warrant was executed Wednesday at a condominium leased by the defendant. Authorities found .22-caliber ammunition and a semiautomatic Hungarian rifle, he said.
A .22-caliber gun was found between Hernandez's home and the murder scene, McCauley said. The murder weapon was a .45-caliber firearm. Hernandez also faces several gun charges.
McCauley said Lloyd was shot through the forearm, then turned and was shot twice in the back and when he was on the ground absorbed two gunshots to the chest.
McCauley said a shell casing was found inside the car Hernandez drove from Boston to the industrial park where the victim's body was discovered.
A source told
 MyFoxBoston.com that investigators are looking into Hernandez in connection with a double homicide that happened on July 16, 2012 in downtown Boston. An email and phone call to Boston Police from FoxNews.com were not immediately returned.
On Thursday, residents of a condo complex in Franklin described seeing a two-day police search of the unit that neighbors believed Hernandez was renting. Carol Bailey, who lives next door to the two-bedroom unit, said police removed items from the third-floor condo and asked her questions about its occupants. She said a new tenant of the unit told her in May that he was moving in with his cousin and she realized later that the second man was the Patriots player.
"I thought, `This is Aaron Hernandez. He's renting a place here so he can have some peace and quiet,"' Bailey said Thursday.
She said she didn't see the two men often but Hernandez always had a hoodie pulled up when she saw him.
"I think all of us who recognized who it was didn't want to invade his privacy," she said.
Bailey said police towed a black Hummer with expired, temporary Ohio tags from the condo on Wednesday.
Complex resident Kathleen McKeown, whose front door is a few feet from the unit police searched, said there were things that struck her as strange even before that. She said someone had plugged an air freshener into a hallway wall outlet outside the unit and put a jar with fragrance sticks on the floor by the door, as if to mask an odor.
"I thought, `Why would two guys be worried about the smell out in the hall?"' she said.
Hernandez was cut from the NFL team less than two hours after he was arrested and led from his North Attleborough home in handcuffs, and nine days after Lloyd's body was discovered.
The 2011 Pro Bowl selection had signed a five-year contract last summer with the Patriots worth $40 million.
Another man, Carlos Ortiz, 27, was arrested Wednesday in Hernandez's hometown of Bristol, Conn., as part of the murder investigation, New Britain State's Attorney Brian Preleski said Thursday. Ortiz was charged as a fugitive from justice and waived extradition to Massachusetts. Prison records show he is being held on $1.5 million bail at a Hartford jail.
Ortiz's public defender, Alfonzo Sirica, declined to comment about the case.